When you get a boat, jet ski, or some other type of water vehicle, you are going to need to get some way to raise it out of the water to protect it. A boat lift is important because it can prevent damage to the boat and dock, reduce water damage, eliminates the likelihood of algae growing on your boat, and increases the lifespan of your boat.
Boat lifts usually range anywhere from $2,000 to $20,000. Typically, the price is affected most by how much they can lift. Also, it will typically cost about $1,500 per ton the boat lift can handle. The type of lift will affect the price, with hydraulic boat lifts being the most expensive.
There are four main types of boat lifts: cantilever lifts, vertical lifts, elevator lifts, and hydraulic lifts. I will explain the difference between all of the lifts and how expensive each of them is on average. I will also explain how to find a cheaper option for those who need one.
Cantilever Lifts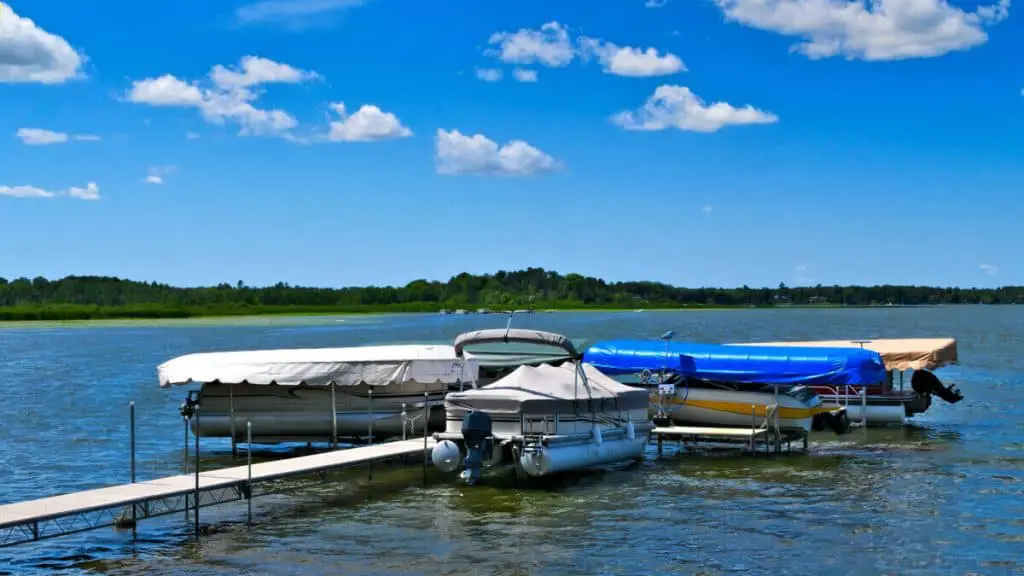 A cantilever lift is a lift where the lift part is raised either diagonally or horizontally rather than coming up vertically. The lift is on two h-shaped structures that are raised using just a single cable at both the front and back of the structures.
These lifts are great for someone who is looking for a boat lift that does not require much maintenance. The single cable and three pully system reduces strain, allowing for it to last longer without as much maintenance.
If you do have to make repairs, because of how simple the lift is, any repairs are quick and tend to be inexpensive. These lifts are also good because they don't require any power to operate.
These lifts are made for slightly smaller boats and jet skis, though some are made for larger boats. You might be able to find some for pontoons, however, stronger lifts are going to cost more than the average cantilever lift.
The average price of a cantilever lift ranges between $700 and $3,500. If you get a cantilever lift that can handle 5,000 lbs., you can expect a price of around $3,500 and with a higher maximum weight capacity, expect the price to increase quickly.
Vertical Lifts
Vertical lifts work just as you would expect them to. When you raise the lift, the bars will raise and bring your boat out of the water. These lifts typically will have 4 or 5 cables and around 7 to 10 different pulleys.
The best part of vertical lifts is how much they lift your boat out of the water. Other lifts, like cantilever lifts, will only get your boat out of the water by a foot or two. Vertical lifts are great because they can easily lift an extra foot and a half above the water. This will help protect the boat even more.
However, this extra height does come with a bit of a price besides the price tag. A vertical lift has much more strain on its cables and pulleys compared to a cantilever lift. This can mean that you will have more maintenance problems, though the parts aren't typically extremely expensive. However, it can be somewhat complicated to install them if you don't know what you are doing.
The price tag of vertical lifts will, on average, be between $6,000 and $20,000. This is a massive gap, for example, a vertical lift that is capable of lifting 5,000 lbs. will cost you in the ballpark of $8,000.
Elevator Lifts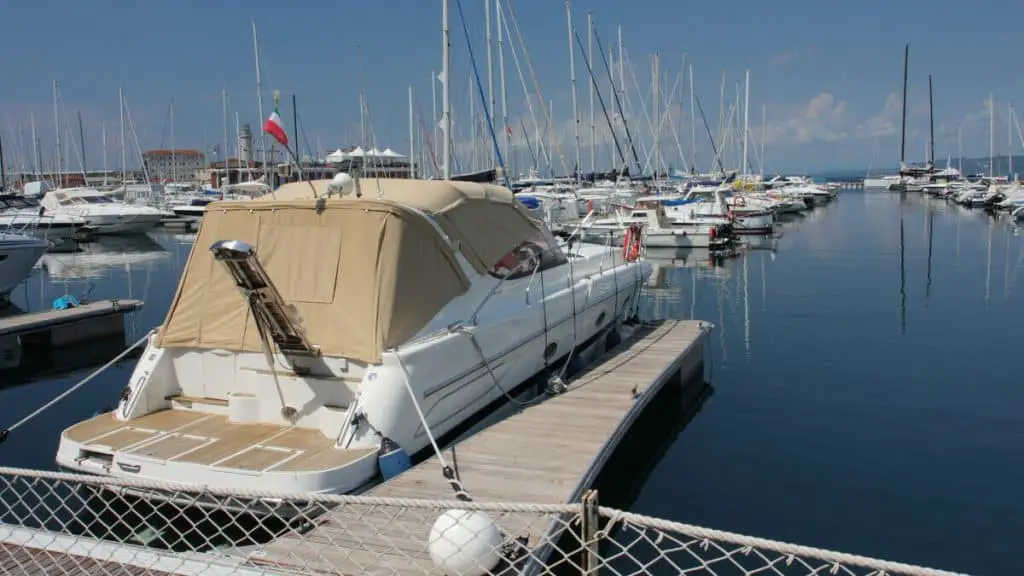 An elevator boat lift is a nice option because, unlike the cantilever or vertical lifts where you have to do the effort of spinning the handle and raising the boat yourself, an elevator lift does everything for you. With the elevator lift, it is like a vertical lift, but you simply have to activate the elevator function to raise or lower it.
This does come with a bit of a drawback, as if you lose power, the elevator function won't work and you will be unable to get your boat into the water. Besides this small and unlikely (depending on where your boat is at) drawback, an elevator lift is a great option for those who are older or don't want to hand lift and lower their boat each time.
The convenience of elevator lifts does come with a higher price stage, with the low-end elevator lift costing an average of $8,000, though if you a wanting a nicer elevator lift or need it to lift a heavier boat, the average price can quickly get up to $20,000. An elevator lift that is capable of lifting 10,000 lbs. will cost you on average $10,000.
Hydraulic Lifts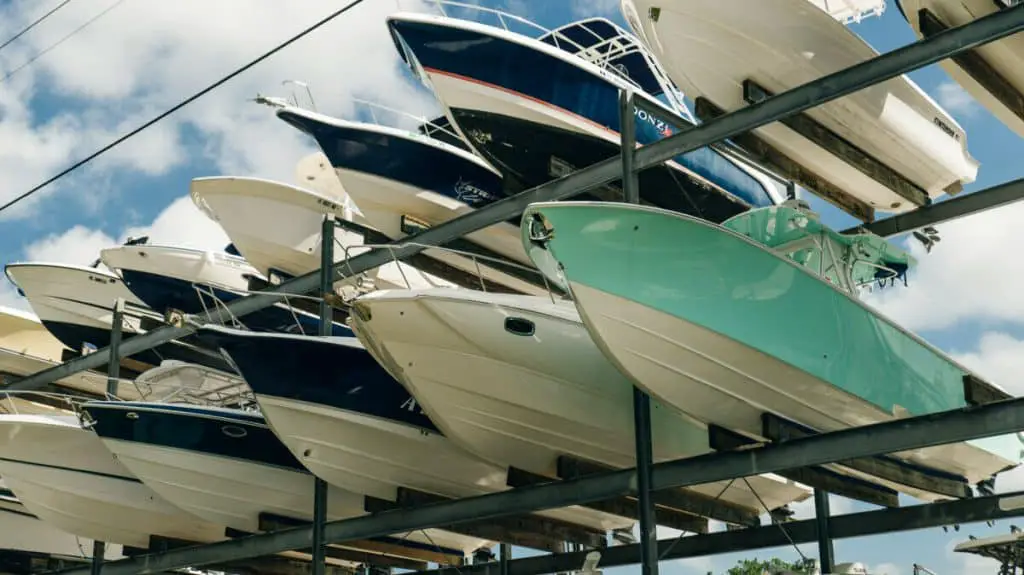 The hydraulic system is the most unique type of boat lift system out of the four main types. This is because, unlike the other three, the hydraulic system doesn't have any cables and is nearly completely silent. Because of the lack of cables, you won't have to worry as much about maintenance or repairs for your boat lift.
Another benefit of the hydraulic lift is the slightly cheaper price tag. On average, you can expect it to cost between $2,000 to $12,000. Heavier weights and other added features can increase this, but typically, the hydraulic press will be slightly cheaper than other boat lifts.
How to Find Cheaper Boat Lifts
There is a very easy way to save up to 60 percent on your boat lift. This is through getting a used one on a site like eBay or Craiglist. Another option would be to check out a third-party store, as they might be willing to sell you a boat lift for a lower price than online dealers.
Be warned that you likely won't want to get the cheapest boat lift. Instead, shop around and do lots of research. You are going to want to get a reliable boat lift or you are going to have to replace it quicker, costing you more in the long run. If you have the materials and knowledge, there are plenty of tutorials that can show you how to build your own boat lift as well.
Project "Get That Thang Up"Boating
Check out our article on: How To Get A Title For A Boat Without Title?