How much does a pontoon boat weigh? The average dry weight is about 2200 pounds, but this doesn't tell the whole story.
Once you take other factors into account—passengers, fuel, materials, and other onboard accessories—you can expect the average weight to start at around 4000 pounds. Depending on the amount of cargo and the number of passengers on board, this number can vary.
Pontoon-style crafts appeal to many recreational boaters, even those with minimal experience. As such, it can be easy to get in over your head, so to speak. It's in your best interest to learn as much as you can about a boat before you buy it.
That's why I've put together this guide. In the years that I've been piloting pontoon boats, I've learned a thing or two about how they operate—and how the total weight can affect that operation. Once you've finished reading, you'll be a step ahead as well.
In this guide, we'll cover the following:
Examples of pontoon boat models and their dry weights
Specifications and qualities that set the featured boats apart
Important information about towing capacity
Average Required Towing Capacity For A Pontoon Boat
In order to tow this type of boat, your truck or SUV should have a towing capacity of at least 6,000 pounds.
Though the boat itself might weigh as little as 1300 pounds, you'll need to take the cargo weight into account, as well as the other considerations we mentioned. What's more, the trailer itself will probably weigh 500 to 2000 pounds on its own.
When you tow more weight than your vehicle can handle, you're putting yourself and the vehicle at risk. The excess weight will put too much strain on the engine, which will lead to costly repairs.
All that extra weight can even cause the front of the vehicle to lift slightly. This affects steering and braking. Needless to say, that's not an ideal situation. You need to be in complete control of the vehicle, especially when towing heavy loads.
Pontoon Boat Examples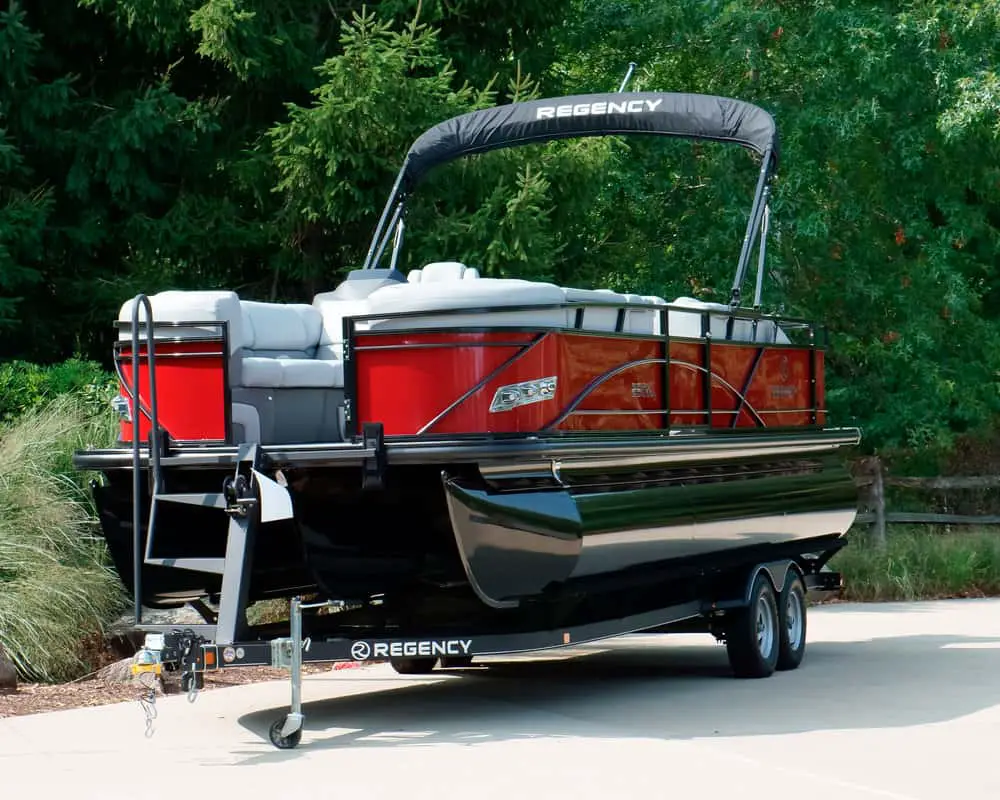 Be aware that for the total weight including the trailer, we've made estimates based on the average size of a boat trailer for models of that particular length. The number may be slightly less or a bit more.
1. Avalon Eagle
1350 lbs
With Trailer: 1850 lbs
16 ft
This lightweight 16-footer is a good choice for family outings. It's built from quality materials, with anodized rails and aluminum seat bases. You can even add on a stereo with satellite radio if you'd like.
The dry weight of 1350 pounds makes this an appealing option for first-timers who might be nervous about towing a heavier craft. Be aware, though, that serious fishermen and women might do better with another model. There isn't a lot of storage space for tackle and rods on board.
---
2. Sweetwater SW 2086
1775 lbs
With Trailer: 2775 lbs
22 ft
While the dry weight of the Sweetwater SW 2086 is just 1775 pounds, it will weigh about 2500 pounds once it's loaded for fun. If you add on some of the special features, such as captain's chair, fish finder, and LED docking lights, you can tack on a few extra pounds.
This pontoon boat is impressively light for a 22-foot model and comes with a number of useful additions, such as a stereo, tachometer, and playpen cover. Families and anglers alike are bound to get plenty of enjoyment from this model.
---
3. Avalon Catalina LSZ Quad Lounge
1800 lbs
With Trailer: 2800 lbs
22 ft
This is another lightweight 22-footer, offering enough space for 10 people. As the name suggests, the Catalina LSZ is a lounger, with an open floor plan more suited for fun in the sun than serious fishing.
The boat features a stylish canopy and an attractive design that's sure to be the envy of the lake. Stainless steel cup holders ensure that the passengers can remain well hydrated while enjoying a day on the water.
---
4. Avalon Catalina DRL
2050 lbs
With Trailer: 3370 lbs
24 ft
Avalon's Catalina DRL is slightly larger, with a recommended capacity of 11 people. A centerline locker provides room for your equipment, whether you prefer fishing or water sports.
Speaking of which, this model offers an optional Waveglider Tube Package. If your group enjoys tubing, this model might be just the ticket.
---
5. G3 Suncatcher X22RF
3600 lbs
With Trailer: 4600 lbs
22 ft 6 in
The Suncatcher X22RF is another small and sporty choice, but this one is ideal for anglers due to its enormous livewell and superior rod storage. Able to accommodate up to 11 people, the pontoon craft is equipped with excellent safety features as well.
Music lovers should appreciate the onboard sound system, which is iPhone and iPod compatible. The bow area offers plush seating for passengers who aren't interested in casting a line.
---
6. Avalon Ambassador Rear Lounge
4600 lbs
With Trailer: 5920 lbs
27 ft 3 in
With a seating capacity of 14 people, the Ambassador Rear Lounge offers a bit more wiggle room. Attractive lighting—including lighted cup holders—give this model fantastic eye appeal. During the day, the extended rear deck invites passengers to stretch out and make themselves comfortable.
With a rear starboard ladder and ski tow bar, this is a good choice for water sports as well. There aren't a ton of amenities for anglers, but a built-in fish finder is included.
---
7. Suntracker Regency 254XP3
3300 lbs
With Trailer: 5300 lbs
27 ft
The Regency 254XP3's claim to fame is its broad swim platform, which encourages passengers to get up close and personal with the cool water. A sturdy ladder makes it easier for them to climb back on board.
The open floor plan offers plenty of seating, and the helm chair can be adjusted to accommodate captains of all shapes and sizes. Best of all, the boat's design allows for added security and comfort at top speeds.
---
8. Suntracker Bass Buggy 16 XL
1565 lbs
With Trailer: 3920 lbs
18 ft 5 in
Despite this boat's relatively small size, the trailer weighs more than you might expect. Your towing vehicle should be able to tow at least 5500 pounds in order to safely handle this pontoon craft.
Dual bow chairs make for a companionable fishing experience. Enjoy the Bluetooth-compatible stereo while you cast your line, and store your catch on the Livewell seat. The aluminum hull ensures that you'll be enjoying your adventures for years to come.
---
9. Bennington Marine 30 QXSB
6801 lbs
With Trailer: 8801 lbs
31 ft
The dry weight of this 31-foot pontoon craft includes twin 450-horsepower engines that give it unparalleled grace and speed. The fiberglass construction adds to its longevity and overall elegance.
The tilt steering and console footrest offer superior comfort, and a built-in Striker fish graph encourages anglers to try their luck off the roomy stern deck. Since this boat can accommodate up to 14 people, the whole family can come along for the ride.
---
10. Avalon GS Cruise
2450 lbs
With Trailer: 3770 lbs
25 ft
The long curved benches on the Avalon GS Cruise pontoon give sunbathers plenty of room to stretch out and catch some rays. The lounge arms even offer storage for suntan lotion, extra towels, or other gear.
The rear ladder leads to a low stern platform that makes it easy to climb back on board after a bracing swim. Be aware that the layout makes fishing difficult—this is more of a conversation cruiser, built for lounging.
---
In Conclusion
How much does a pontoon boat weigh on average? As you can see, the base quote of 2200 pounds is more of a guideline than a rule. In addition to the dry weight, you need to factor in the trailer, passengers, fuel, and cargo.
Project "How Much Does It Weigh" Boating
Check out our article on: How To Dock A Pontoon Boat (Important Tips!)