This is our comparison of Humminbird vs. Lowrance fish finders
We tested a number of fish finders from these two respective companies because asking a fisherman to choose between Humminbird or Lowrance may start up a row. Both brands offer excellent fish finders, and they are renowned for good reason.
Consider that one may not necessarily be "better" than the other, although some key features separate them. Humminbird offers more features and functions in their fish finders and sway more to innovative technology such as superb mapping, imaging, and sonar.
Conversely, Lowrance offers similar features; although toned down, many professionals such as Jordan Lee, Skeet Reese, and more choose to use them.
Discover the main differences between these two powerhouses in terms of what features their fish finders have. Then also find out which professional fisherman opt to use along with which have more models and are the cheapest.
Humminbird Vs. Lowrance Overview
Both Humminbird and Lowrance are at the top of their fields, creating the most extraordinary fish finders on the market today. Not only that, but the reputation for both brands is synonymous with quality amongst casual and professional anglers alike.
Therefore choosing which one is the best is neither here nor there. Even professional fishermen such as Miles Burghoff use a combination of Humminbird, Lowrance, and Gramin to stalk and catch his tournament-winning fish.
Thus we may not be able to choose a clear winner overall; because both Humminbird and Lawrance design and manufacture incredible fish finders through a variety of price ranges that will suit almost anyone's needs.
Humminbird was the first to produce and launch its waterproof echo sounder sonar system along with LCR screens. LCD screens soon followed this with the primary use of 360-degree sonar technology. One of its newest features includes the SmartStrike system (which we will discuss)
On the other hand, Lowrance uses Broadband sounder technology and implements imaging techniques such as side scan and down scan imaging. In 2020 they released their HD multifunctional touch screen.
Hummingbird Vs. Lowrance Comparison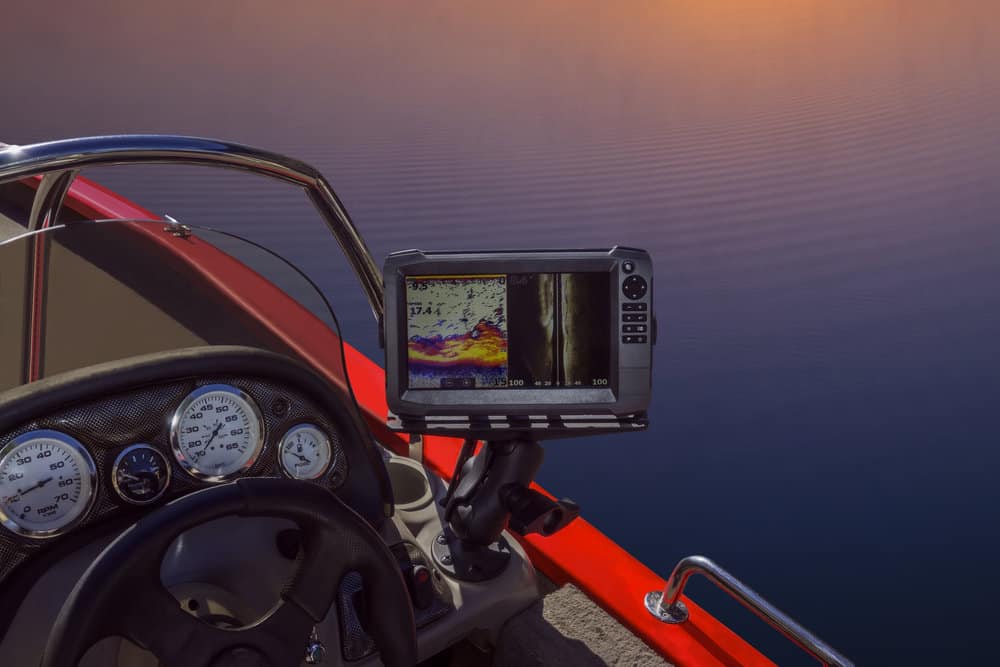 Although both brands use similar (and some of the same) features in their fish finders, there are a few key features that each brand sports that separate them from one another. Let's look at these.
Humminbird Vs Lowrance Sonar
Some individuals say that hummingbird fish finders have a superior sonar system to Lowrance. The use of their capable 2D sonar technology allows you to locate much more fish quickly. Dual-Channel CHIRP Dual Spectrum CHRIP, SwitchFire, and Dual Beam are also part of their sonar technology.
Lowrance boasts the highest resolution, easy-to-use with multiple views sonar fish finders available on the market. Their sonar capability (known as ActiveTarget Live Sonar) features extraordinary detail and astounding clarity. Not only does it have a forward and down view for their sonar but also a scout view.
Their sonar features an auto-tuning option that allows you to concentrate on the task at hand (fishing) rather than wasting time fiddling around with unnecessary settings.
Moreover, their broad-angle CHRIP sonar has been said to offer you twice the coverage of conventional fish finders.
Due to its wide array of features, Humminbird takes the winning spot when it comes to sonar over Lowrance. We have listed all the key sonar features and compared the ones where we could, which are applicable to Lowrance.
Dual-Channel Chirp Sonar
With a dedicated 2D CHIRP sonar port that provides independent connections, you are able to gain the extra edge out on the water. The 2D CHIRP transducers can go up to 2 kilowatts due to these independent connections, which also allow you to take advantage of the transducer ID for Airmar, which is built-in. This provides optimized images and settings that give you top-quality deep water sonar performance.
Dual Spectrum CHIRP Digital Sonar
Using Humminbird's proprietary low Q CHIRP transducers, you are able to see more of what you need to. This technology delivers highly clear and defined fish arches with isolated target separation. Humminbird claims that it is some of the best fish-finding technology you can find on the water.
Dual Beam Sonar
Humminbird's Dual Beam technology allows you to cast a more precise net with your sonar tracking, showing you the fish and the bottom of the body of water.
A wide beam will enable you to search a more significant area, but it also incorporates a narrow beam that lets you track for more precision. It also features DualBeam Plus, which lets you combine both beams simultaneously.
Humminbird Vs. Lowrance Imaging
The Mega Imaging CHIRPS from Humminbird produce a high-frequency beam that spans the megahertz range providing the angler with never before seen detail underwater. Their Mega imaging technology expands this by extending the range and depth.
Humminbird once again seems to have more features and could be declared the winner over Lowrance in this category. We have listed all Humminbirds features regarding their imaging technology and compared them to the Lowrance imaging features where relevant.
Mega 360 Imaging
Humminbird's Mega 360 imaging sweeps the water up to 125 feet in all directions. In days gone by, anglers had to deal with sub-par imaging, but this latest technology from Humminbird gives crystal clear detail of the structure, the bottom, and the fish.
Minn Kota trolling motors are also compatible with the Mega 360 imaging and its one-boat network.
Although Lowrance doesn't offer 360-degree imaging, they do have Scout View, and some anglers actually prefer this, seeing as they will cast from the bow of the boat most of the time.
This real-time wide-frontal View of the transducer lets you see in a wide arch in front of the boat, allowing you to know which direction you should be casting.
Mega Live Imaging
Mega Live Imaging will allow fishermen to the structure and fish in real-time. It even allows you to watch the fish as they move in while attempting to bite the lure. Although not featured in some of their devices, this extra accessory transducer is compatible with specific Humminbird control heads.
The forward view technology of Lowrance's ActiveTarget Sonar allows you to see the structure and fish that are directly in front of you. Lowrance says that this will enable you to target your following catch ideally. Although it does not quite compare to Humminbird's Mega live imaging, many professional anglers still opt to use Lowrance due to the simplistic high-quality design and features.
Side Imaging
Humminbird's side imaging technology utilizes an ultra-thin beam to scan the left and right sides of your boat location. The images that are returned from each section are added to one taken before and after. This allows the device to build up an unprecedented view of the water body floor.
Down Imaging
Down imaging lets, you get a fish-eye view of what is happening below. Ultra-thin slices emit high-frequency sound waves that produce these incredible portrait images of the floor. Moving along the water in real-time, you will see all the constituents of the floor come up on screen in magnificent detail.
Down View is Lowrance's version of down imaging and lets you know the depth and see what is directly underneath (below) your transducer with real-time imaging. This enables you to drop the lure directly above the fish, priming you for the optimal catch.
Humminbird Vs. Lowrance Mapping
Built into all APEX, SOLIX, GPS-equipped HELIX, G2, and G2N models is Humminbird's Basemap. These accurate maps based on freshwater data from LakeMaster and NOAA give you a clear indication of the underwater terrain.
You are able to identify hazards, daymarkers, buoys, marinas, and much more. It also allows you to spot points of interest, depth contours, and other surroundings.
As with Humminbird, Lowrance offers pretty detailed mapping imagery thanks to their technology. Lowrance is compatible with leading chart map providers such as C-MAP, which provides enhanced and embedded charts to their HDS LIVE, Elite FS, and HOOK Reveal models.
They offer ultra-high resolution bathymetric imagery with REVEAL charts that give you the very best of C-MAP integration. This includes Shaded Relief that will allow you to see the underwater terrain in various shades, making you comprehend the floor more so than ever before.
Along with C-MAP, they also offer Navionics (as does Humminbird), which is one of the world's largest providers of marine cartography.
Although Lowrance also has Navionics, Humminbird overtakes them again with their sheer number of features. We have listed all Humminbird's features and compared them to Lowrance mapping features where applicable.
Autochart Live
Available on their APEX, SOLIX, and GPS-equipped HELIX series is also Autochart live. This patented technology allows you to build detailed maps of a fishing spot in real-time. Furthermore, it allows you to map the water while you drive due to its eight-hour built-in recording time.
Compatible with other Humminbird technology such as i-Plot Link Follow, once the map is live, you will be able to view the map showing you vegetation, depth contours, and the hardness of the floor.
Lakemaster
Humminbird's Lakemaster cartography allows you to read contours, highlight depth ranges and scroll through lake lists. Constantly updated with a list of available regions and lakes, it delivers freshwater fishing charts with outstanding accuracy.
SmartsStrike
Their SmartStrike feature on some of their devices allows you to input data like weather conditions, time of the day, the year, wind, water conditions, and fish species. Once this has been set, an algorithm works on the body of water you are fishing in and plots the best possible fishing locations.
This technology is available with the APEX, SOLIX, all HELIX 12, 10, and 9 models. You can also get it on HELIX 7 G2N, G2, and HELIX 5 G2 models.
Chartselect
Chartselct lets you pick charts from LakeMaster that you fish the most, and with a growing list of lakes, you are able to update and download additional layers. This includes letting you download aerial photography of a traditional map over various years.
Coastmaster
This technology was developed specifically for offshore and nearshore fishing. The saltwater charts deliver crystal clear charts for the East and West coast regions along with the Gulf of Mexico. It features chart customization and easy-to-read contours.
Navionics
The Navionics technology allows you to get detailed information for the waters that you are fishing. Along with community edits, map updates, and more map options for your freshwater or saltwater region choice. Both Lowrance and Humminbird have this feature included in most of their models.
Genesis Live Maps
This feature is Lowrance-specific and is not a part of Humminbird or their technology. Genesis Live Maps offer simple navigation that uses a GPS plotter system. This will allow you to navigate with ease by adding waypoints and following trails.
Humminbird Vs. Lowrance Size And Design
Humminbird offers fewer models than Lowrance but focuses primarily on the latest technology. Their high-end models will deliver multiple types of imaging and mapping that some anglers think to provide a better fishing experience.
On the other hand, Lowrance has many more models to choose from. In addition to that, they are known for having large screen sizes.
Humminbird Vs. Lowrance Price
Due to them having many more models than Humminbird, Lowrance is able to cater to the lower price range market. This is supplemented by their fishfinders not having as many features as Humminbird models. This makes Lowrance a go-to for casual anglers who don't want to spend a lot of money on a fish finder.
Humminbird Vs. Lowrance Models
Depending on your needs and what you are willing to pay, there are a plethora of fishfinders that you can choose from, and you don't have to limit yourself to one brand or the other. We have selected two of the best models from each for your perusal which are at a budget-friendly price, and if you are in the market for a terrific fish finder, then one of these will certainly do the job well.
The Reveal 5 series comes with almost 4,000 US inland lakes. It features Genesis Live mapping that lets you create custom contour maps along with a GPS plotter. It combines the target separation of the Lowrance CHIRP sonar and high-resolution images to provide you with images of the underwater structure. This allows the down scan imaging to make fish pop up on display.
It also features its auto-tunning sonar that ensures the best sonar image every time without you having to adjust settings. It comes with a 5-inch crisp display that enables you to view it in any conditions due to its SolarMAX display.
This fish finder is a stell at under $400, and you'll be hard-pressed to find another like it at this price range.
Check out the Hook Reveal 5 Series on Amazon here
With almost 1,000 reviews on Amazon giving it almost five stars, this relatively inexpensive fish finder is the way to go if you don't want to lighten your wallet too much.
Only costing $150, it features dual beam sonar that helps you identify fish, structures, and contours. It also features superb down imaging that gives you a crystal clear image of the underwater terrain on its 4.3-inch color LCD screen.
It comes with a tilt and swivels mount in a modern and stylish design, making it optimal for any boat.
Check out the PiranhaMax 4 on Amazon here
Conclusion
We discovered that, indeed, Humminbird offers more features for their fish finders, but many professionals still opt to use top-tier Lowrance devices.
Even master fishermen such as Miles Burghoff use a combination of both. Thus, picking one over the other will boil down to preference, what you are looking for in your device, and how much money you have to spend.
Both brands make exceptional fish finders, and that's why so many anglers opt to use one or the other.
Project "Get Your Sonar On" Boating
Check out our article on: How To Measure A Boat Steering Cable?