Nobody wants gas fumes to be the reason they had a bad day at the lake/ beach. This alone is good motivation to take the step(s) necessary to ensure the safety of everyone using the vehicle.
The best way to check for gas fumes after fueling a Personal Water Craft is to conduct the "smell/sniff" test. This means that the liable individual should open the engine compartment of the PWC and sniff it to make sure it doesn't smell like gas fumes.
While the smell test seems pretty straightforward, there are a few things a person should know about the process to get the best, most accurate result possible.
What is a PWC
It is important to consider that the official definition for a PWC varies between states. However, across the states it is unanimous that a PWC is a Personal Watercraft, it is the most common type of jet-propelled watercraft for recreational boaters.
It is a small vehicle that is designed for the person operating it to be sitting, standing, or kneeling on the vessel, as opposed to being inside of it like on a boat. More specifically it is also categorized this way because it uses something called an inboard jet drive to power a water jet pump as its main form of thrust and power.
To be considered a PWC, the vehicle must fit both requirements. So something like a paddleboard kayak, raft, or canoe is not categorized as a PWC because while they are designed to be sat, stood, or kneeled on, they are not motorized in any way.
Water jet devices are also considered PWCs because they use the same system to gain propulsion and they are designed to be stood in.
The most commonly used and accessible form of personal watercraft is manufactured by companies like Kawasaki, BRP, and Yamaha. This might not seem familiar because most people frequently refer to these PWCs by their brand names, they are known as JET SKI® (Kawasaki), Sea-Doo® (BRP), and WaveRunner® (Yamaha).
Best Way to Check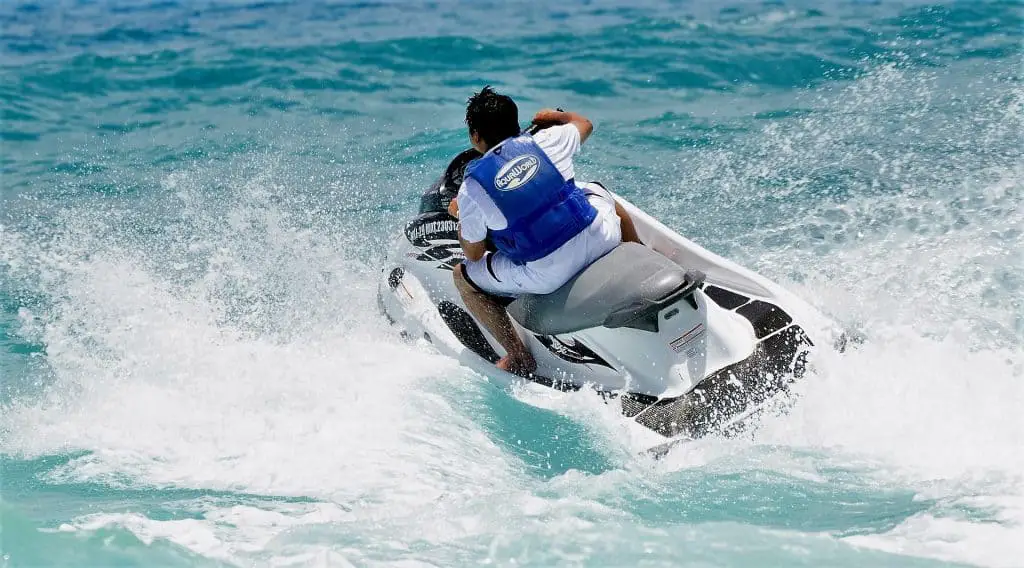 Across the board, every internet source and person that I could speak to said that the best way to check for leaking fuel is to conduct the "smell test". This is exactly what it sounds like. Once the individual is done fueling the vehicle, they should walk over to it, open the hood of the engine compartment, and smell it to check for gas fumes.
It is important to note that all of this should be done before the engine is ever started.
We also have an important article regarding fueling boats: What Should You Do Before Fueling Your Boat? (Important!)
Other Ways to Check
One source had a different answer as to what is the best way to check for gas fumes on a PWV. However, their answer still incorporates the smell test. They stated that the best way to check for fumes is to inspect the fuel lines by using your eyesight and sense of smell to determine if there is a leak.
This source also listed other ways to check for a fuel leak, one of these ways is inspecting the gas tank. If there are signs of rust here then you should highly consider calling a mechanic. Another way to check is for the individual to look at the fuel system, if there are any problems here it is advised that you immediately call a mechanic.
What To Do if You Find Gas Fumes
The previous source also stated that if you see or smell anything that looks or smells like gas, action needs to be taken right away. If you are experienced in this area, you may inspect and repair the system yourself but it must be done immediately. If you don't know how to repair the vehicle then it is strongly suggested that you immediately call a professional mechanic.
You must find the source of the fuel leak, it could be a buildup of grease or something else. It is vital to determine whether the gas leak is coming from the tank itself or the fuel line. This is important because different types of fuel and their location of it will cause different reactions. To determine this, one must inspect the gas tank, analyze the fuel system, and if all else fails, call a mechanic.
The key takeaway from the advice is that if there is a gas leak, you must not use the vehicle until this process is complete.
Why is it Important to Check?
It is extremely important that you check for gas leaks as the owner/ person liable for the PWC because the worst-case scenario of not checking can end in fatality. Gas fumes leaking is the number one contributor to boat fires and explosions. I highly doubt that anyone wants this to happen to them, especially when the preventative measures are so simple and easy to do.
All the person has to do is check for a leak, this could take maybe 30 seconds if that. If it could save a life, it is worth it.
Having leaking fuel on a PWC is something that could happen to anyone, no matter how experienced the person is. It is important to know that this accident can happen to anyone because sometimes people overlook safety measures because they feel that they are super experienced/ a master of the field so simple safety doesn't apply to them. This couldn't be further from the truth.
The act of simply checking for leaking gas can save you and your passengers from a dangerous situation as severe as an explosion.
Another reason that this precautionary step of checking for leaks is important is that if you are renting or borrowing the vehicle from someone/ somewhere, then you do not know the condition or stability of the vehicle.
If it is your own automobile then you know exactly how much wear and tear it has and any damages on it, but if it is not your own then you have no background information. You don't know if the PWV is prone to leaks or something, so it is especially important to check for this reason.
A third reason that it is important to check for gas leaks is that they can range from mild to extreme and the damage can progress quickly. Even if it is a mild leak, using the vehicle can cause damage to the fuel system itself.
Project "Ol' Sniff Test" Boating
Check out our article on: How Shallow Can My Boat Go: (Guide)