Anchoring your boat in different conditions is a skill. There's a lot more to proper anchoring than setting the anchor, and knowing how to change your boat anchoring style to suit the weather and water conditions is essential. 
The proper technique for anchoring requires you to use your engine to steady the boat while you cast the anchor ball. You have to use the right scope, measure the anchoring distance correctly, and understand the bottom terrain while anchoring. Knowing different anchoring techniques is also helpful. 
This article will discuss the proper technique for anchoring your boat in different conditions. I'll also give you pro-anchoring tips and discuss which anchor to use for your boat. 
Basics of Anchoring
Let's first discuss the basics of anchoring. Before you prepare your anchor, remember that your boat should be anchored in a way that doesn't interfere with the anchor ropes of other boats. 
Prepare Your Anchor 
You need enough anchor chains or rope so that the anchor follows the wind line along the waterbed before slanting upwards at a curved angle. If you use too little anchor rope or chain, the anchor rope might snap. 
The ideal anchor scope in calm waters for an average-sized boat is a ratio of around 7:1. However, you can use a lower anchor scope for smaller boats and a slightly higher ratio in rough weather conditions.
Depending on your boat size and weather conditions, you can go as low as 4:1 of anchor scope in crowded areas. 
Find the Best Anchoring Spot 
There are a few things to look out for when searching for a good anchoring spot, and keeping these things in mind may help locate an ideal area. First of all, finding a spot where boats are already anchored is quite helpful, as this is a good indication that it is an ideal anchoring area. 
However, good awareness is required by the skipper to determine if the area is crowded and whether or not there is enough room to allow for a safe 360-degree swinging room for the boat and those in the vicinity.
Reading your chart to see what the type of surface is at the bottom in the area you're planning on anchoring is also crucial, as the type of anchor used will differ according to the differences in bottom surfaces.  
Also, try to anchor your boat in an area where the wind is blowing away from the shore and not towards it. This prevents the boat from getting blown onto the shore in certain circumstances.
Another tip would be to take your time while looking for a good anchoring spot, as this will allow you time to ensure that you're a safe distance away from any other boats. 
Lower Your Anchor
Anchoring a boat requires you first to determine the type of anchor you will be using based on the depth of the area. It is also important to remember that smaller and larger boats have different ride length requirements.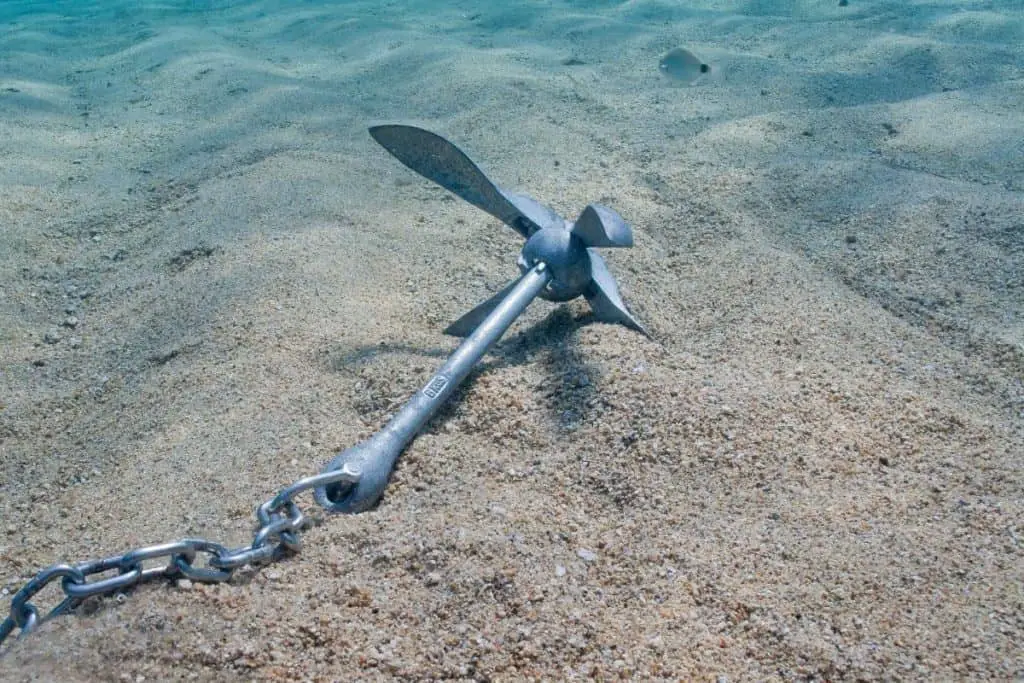 So, if the anchoring area is 5 feet deep, you would motor into the wind 35 feet past the point you want your boat to anchor and then let the wind take you back.
Avoid anchoring in very shallow waters, and keep a tab on how shallow your boat can go. 
Lower your anchor down from the bow, and ensure the anchor is secured to the boat.
Pulling Back the Anchor 
Pulling an anchor back is quite simple if you are in shallow and still waters, but it gets more tricky in deeper, moving waters. 
If you plan on anchoring in deep waters, you should consider getting an electronic anchor retrieval system to make life much easier. Pulling up an anchor from deep waters is no easy task. 
To pull an anchor back up:
Position your boat directly above the anchor and pull straight up on the anchor line.
It shouldn't take much time or effort, depending on how deep it is.
Pull on the anchor line tightly while turning your boat in a large circle if the anchor is stuck.
Once you feel the anchor is free, stop the boat and slowly pull the anchor back up.
It isn't very common for anchors to get stuck, but if they do, it isn't something to panic about, as it just requires some untangling.
How to Anchor in a Strong Current 
Anchoring in a strong current could be scary and unnerving initially because anchors easily get stuck during high currents, and there are instances of boats capsizing. But if you follow the guidelines, there's nothing to fear.
When anchoring in current, the correct anchor and scope must be used for the anchor to perform well. You must go well past the normal scoping distance in strong currents to stay in your final area. You will also need to use your motors' power to keep the boat as steady as possible before dropping the anchor off the bow.
Anchoring in a Swell 
Anchoring in a swell is difficult and affected by the strength of the waves, which may be strong enough to push your boat around as you're trying to lower your anchor. 
Position your boat between 15 to 35 degrees off the direction of the swell to ensure that the anchor sets at the right angle. To manage this, you can either set up a swell bridle (also known as a winch bridle) or use a stern anchor that will prevent your boat from swinging violently during a swell. 
You can watch how to rig a bridle in this video by Tula's Tech Talk on YouTube:
How to Anchor in Windy Conditions 
Anchoring in windy conditions is always difficult and must be done properly, or else you risk the danger of dragging. So, to protect yourself and your boat in such conditions, here are some simple steps to follow:
Do your research and find out how strong the winds will be and how long they will last. If you are setting your anchor down at the end of a long day and you're expecting strong winds throughout the night, for example, make sure you anchor in an area where the tide isn't too strong.
Choose the right anchor and anchoring spot. If possible, try to anchor in sand because it lets your anchor set without 'eating up' the anchor the way mud does. 
Let the wind drift you back to your spot. Once you've already picked your spot and are getting ready to throw down the anchor, go out about 75-100 feet into the wind, then drift back. Then, slowly drop the anchor while the boat is moving backward.
Tips to Help You Anchor Like a Pro 
Yes, there are simple anchoring steps that everyone follows, but here are some tips that will help you anchor like a pro:
Find the Best Anchoring Spot
Choosing a good anchoring spot is more than half the real work because there's so much to calculate and anticipate to get it right.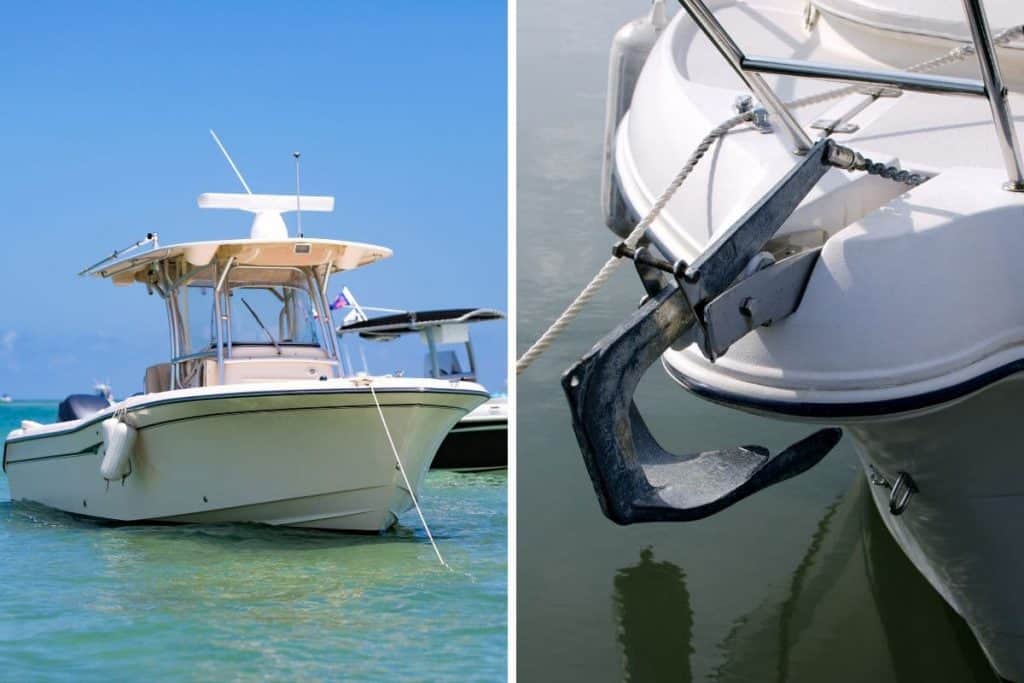 Firstly, gather information by asking the locals and checking your charts to find the best anchoring spot in the area. Once you've done this, scout the area to see the wind direction, depths, and tides. 
Carefully Calculate Where to Drop the Anchor
There are many types of material at the bottom of the water, and you will need an anchor for each. The three main bottom material types are sand, mud, and rock. 
Knowing the bottom type in the area you're anchoring is crucial to good anchoring. You can even use the different material types to your advantage. 
Learn the Anchoring Signs
Anchoring signs help make anchoring more efficient so that it may be done with less shouting. Learning the 12 main anchoring signs will help you communicate effectively and without stress. 
Anchor signs mark things like popular locations to set your anchor and areas where anchoring is not allowed, which will ensure that you can set your anchor in the right locations. 
Top 3 Anchors Available Online 
I've compiled a list of the best anchors, so you don't have to search through all the available options. Here are the top 3 anchors for boating and fishing trips (all of these are available on Amazon.com). 
This is a folding anchor with 40 ft (12.19 meters) of marine rope. It is a robust and reliable anchor that won't get stuck under rocks because of its streamlined design.
Best of all, this anchor has a zip tie feature which allows you to untangle a stuck anchor simply by pulling up on it. You'll also get a 100% money-back guarantee through Amazon. This portable anchor kit is ideal if you have a small kayak or canoe. 
The ISURE marine anchor is made from stainless steel for rust corrosion and provides great holding capacity in all bottoms. It also has great swing resistance and will work in high tides and windy conditions.
It's available in a range of sizes from 13 pounds (5.9 kg) for smaller boats to 110 pounds (49.9 kg) for boats up to 90 feet.  
This is a perfect anchor for you if you have a small craft or dinghy. It has an anchor weight of 3 and a half pounds (1.59 kg) and is made of malleable iron. It is also heavily galvanized, so you won't have to worry about corrosion.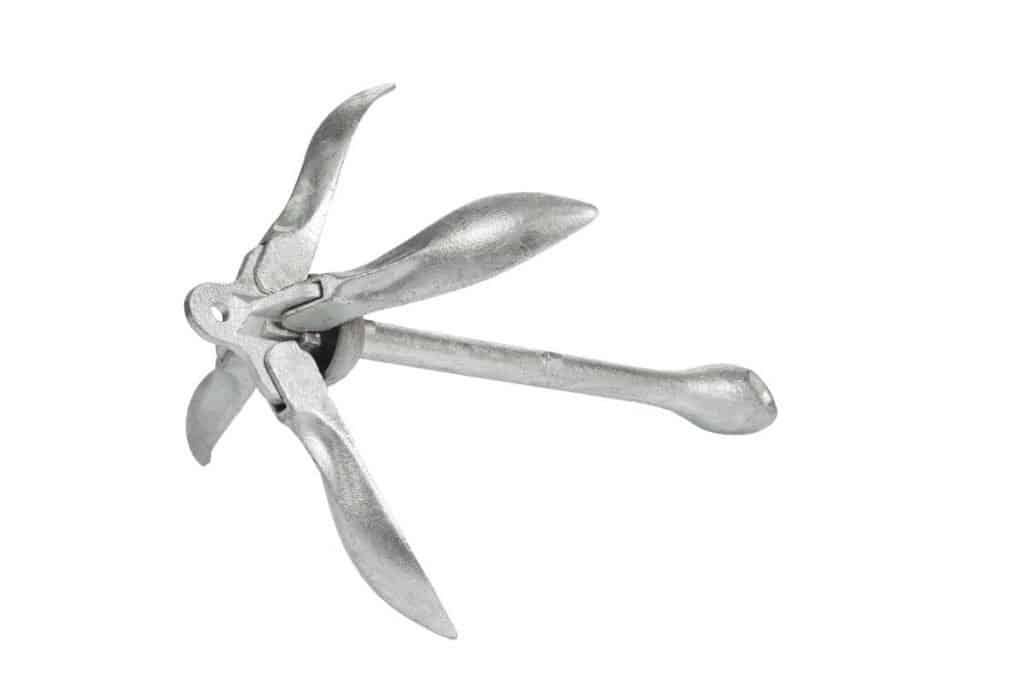 Final Thoughts 
Anchoring your boat properly is crucial to boating safety unless you want your boat to run aground or drift into other boats! Always ensure the anchor type is ideal for your boat before getting a new anchor. Also, memorize the anchor safety signals and follow the best boat anchoring practices for safe anchoring.
Project "Holding Strong" Boating
Check out our article on: Where Should You Avoid Anchoring Your Boat? (Important Tips)