What's the average cost for a pontoon boat, and what features can you expect from the various models? As with all purchases, you can expect that less expensive boats will come with fewer bells and whistles, while pricier models will offer more luxurious extras.
If you're in the market for a pontoon boat, read on. Our guide will provide you with specific examples to give you a clear picture of how much boat you can afford.
What Is A Pontoon Boat?
You've probably seen a pontoon boat before, even if you weren't sure what it was called. These crafts have broad, flat decks that are mounted on top of a set of metal tubes, usually two or three. These tubes are the pontoons that give these boats their name.
The pontoon tubes are exceedingly buoyant, making it easy for these boats to support luxurious lounge areas. They're popular party boats, especially for large crowds.
What's more, while pontoon boats may look like lumbering crafts, they can reach impressive speeds, thanks to cutting-edge technology. If you're worried that pontoon boats won't go fast enough to suit your tastes, you might be surprised at what some of the recent models are capable of.
Pontoon Boat Types
Not all pontoon boats are the same. The prices can vary depending on what the boats are used for. In this section, we'll give you the rundown on the different types of pontoon boats.
Fishing Pontoons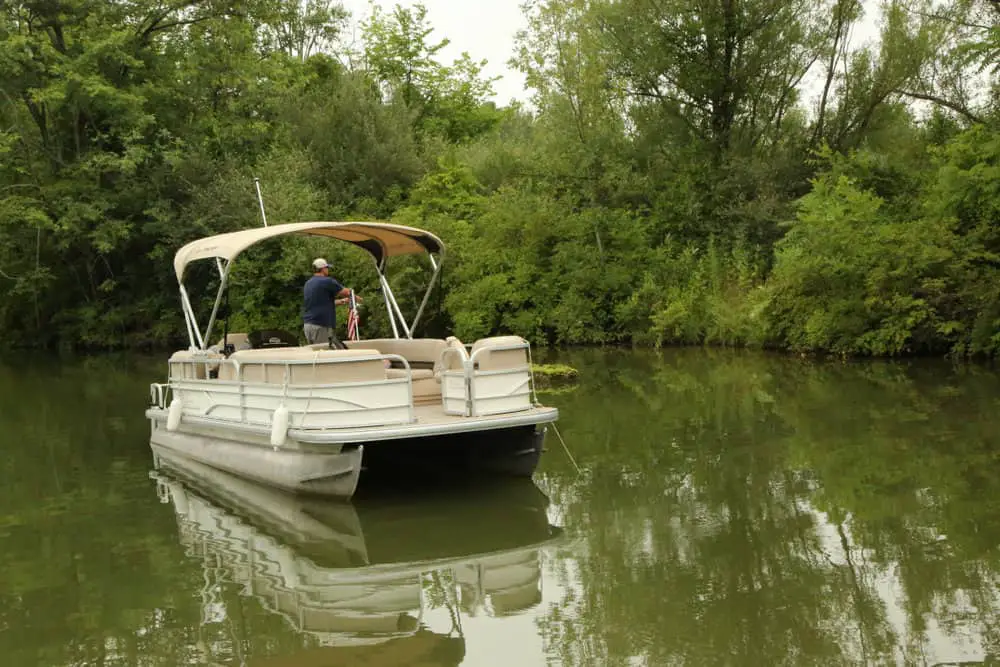 These crafts are designed to offer plenty of storage space and minimal passenger seating.
On board, you'll find live wells, convenient places to store your tackle and rods, and seats with swivel bases to make casting easier. Some models might even have rod holders built into the seats.
The average price for a fishing pontoon falls between $15,000 and $25,000. Since they're not equipped to hold a ton of passengers, the pricing falls on the lower end of the spectrum.
Take a look at this video tutorial to get an idea of what a Sun Tracker Fishin' Barge DLX looks like in action.
Water Sport Pontoons
If fishing isn't your thing but you enjoy waterskiing, wakeboarding, and tubing, then a water sport pontoon is your best bet.
This type of vessel requires a larger motor for moving at high speed. They also have plenty of room for passengers to spread out and carry their gear. This means they carry a slightly higher price tag than boats that are designed for fishing—often between $30,000 and $35,000.
Performance Pontoons
High-performance pontoons can be compared to speedboats, but with a design that includes two ski-shaped hulls. They need large engines in order to operate efficiently, which drives up the cost. Expect to spend between $30,00 and $45,000 on a performance-type pontoon vessel.
Luxury Pontoons
As the name suggests, these are built to offer comfort and elegance on the water. You'll find plenty of customization options when shopping for a luxury pontoon, thereby ensuring that your ride meets your exact specifications.
Here are some of the amenities you can enjoy aboard a luxury pontoon craft:
Plush, comfortable seating
A stable ride
Quiet engines
Entertainment systems
Custom lighting
Some luxury pontoons might even have bar setups on board. In exchange for these amenities, you'll pay a hefty price—usually upwards of $50,000.
Entertainment Pontoons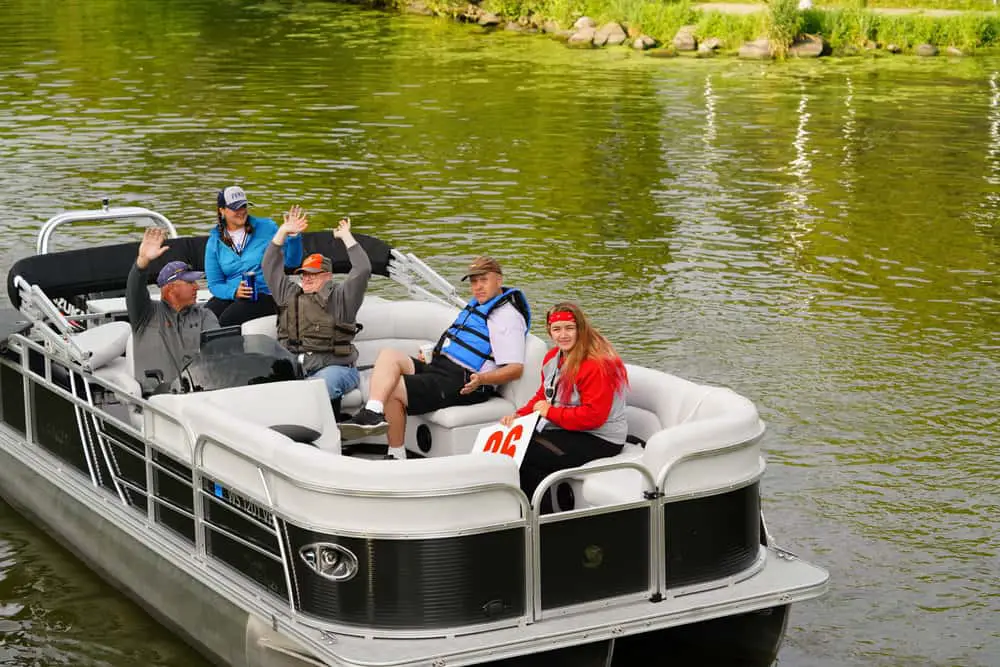 You can identify an entertainment pontoon by its wide open deck space, which usually includes a comfortable lounge area. The sides may feature an open design that makes it easier for passengers to dive off for a swim.
Some of the same amenities that you can enjoy on a luxury craft can also be found on an entertainment pontoon. Prices range from $45,000 to $60,000, or possibly more, depending on the manufacturer.
The Average Cost For A Pontoon Boat
In 2022, the average price range for a pontoon boat was estimated at $14,000 to $50,000. Though some high-end models can run into three-figure territory, this is a good rule of thumb to remember.
For your convenience, we've compiled a list of 15 pontoon boats, along with their brand names, lengths and suggested retail prices. This should give you some idea of what you can expect to spend.
| | | | |
| --- | --- | --- | --- |
| Manufacturer | Model | Length | Cost |
| Sun Tracker Boats | Bass Buggy 16 XL Select | 16 ft | $18,600 |
| Lowe Boats | Ultra 160 Cruise | 18 ft | $19,700 |
| Sun Tracker Boats | Party Barge 18 DLX | 18 ft | $24,800 |
| Tahoe Pontoons | Sport Cruise | 14 ft | $27,300 |
| Suncatcher | Select 16C | 16 ft | $28,700 |
| Lowe Boats | SF 212 | 22 ft | $29,200 |
| Tahoe Pontoons | STX Cruise | 16 ft | $29,375 |
| Bennington | 20 SSRX | 20 ft | $30,000 |
| Tahoe Pontoons | SLT Quad Lounge | 20 ft | $32,600 |
| Sun Tracker Boats | Fishin' Barge 24 DLX | 24 ft | $41,000 |
| Lowe Boats | SS23CL | 24 ft | $42,800 |
| Suncatcher | Select 322RC | 22 ft | $46,600 |
| Suncatcher | Select 324RC | 24 ft | $50,400 |
| Lowe Boats | Retreat 270 WT | 27 ft | $62,300 |
| Sylvan Marine | M3 CRS | 25 ft 8 in | $112,000 |
As you can tell, a shorter boat length won't guarantee a lower price. The offerings from Tahoe Pontoons, for example, are pricier than the competition—even 14-footers like the Sport Cruise model.
The engine type will also have some bearing on the cost. Before you start shopping, ask yourself how fast you want to be able to go, how much fuel you're willing to burn through (see below), and what the boat's primary uses will be. That should help you decide what type of engine you need.
Used Pontoon Boats
If you're looking for a bargain, it might be best to shop around for a used pontoon vessel.
Although the value will depreciate over the years (see section below), you should still be able to get some good use out of it—assuming that the boat was well taken care of by its former owner. That's one of the pitfalls of shopping for a used watercraft, as private sellers don't offer the same guarantees that you'd get with a dealer purchase.
Since people don't tend to upgrade their pontoon boats as often as they would a single-hull craft, it can be hard to find a decent model at a reasonable price. What's more, shopping for a used boat can limit your options as far as extra features and amenities are concerned.
Other Costs and Considerations
In addition to the cost of the boat, you'll have to take care of a few ancillary costs as well.
Licensing fees, for example, can vary based on the length, model year, and horsepower of the vessel, as well as the intended use. If there are a number of fancy accessories included, these fees may increase.
You'll also need to take fuel costs into account. Depending on the current market, gas prices can tack on a hefty sum. There will be other annual maintenance costs as well, but this is the one that you're bound to notice on a regular basis.
Unless you own property that sits on the water, you'll need a trailer to transport the vessel to the lake or pond. Winter storage may also be necessary, depending on where you live.
Finally, remember that the retail value of your craft will lessen over time. After 10 years, most pontoon boats have depreciated by roughly 50 percent.
How Size Affects Price
As a general rule, smaller boats will cost less than enormous ones.
Some manufacturers are more high-end than others, meaning that even their smaller crafts will cost a pretty penny. But if you're looking for a bargain, it's better to think small.
Remember, too, that you'll spend less on fuel with a small boat than you would with an oversized vessel. Any storage and transportation costs will be lower as well.
Possible Drawbacks
Are there any drawbacks to owning and operating a pontoon boat? Aside from the prices—which are pretty high on average—we can think of a few.
For starters, these are not racing boats, despite the technological advantages that allow them to travel faster than they used to. Even the ones that are used for fishing and water sports are built more for comfort and convenience than speed.
It's also worth noting that this type of watercraft doesn't do well in rough conditions. When hit by an exceptionally large wave, a pontoon vessel is more likely to swamp than to ride it out.
While we're on the subject, pontoon boats are better for lake and pond use than for the open ocean. Those of you who want to take your vessel out on the sea would be better off looking for a different type of boat.
Finally, the pontoons create their own wake, making the wake from the boat itself less steep than you might be used to. This means that even the pontoons designed specifically for water sports might offer a disappointing experience for wakeboarders and waterskiers.
In Conclusion
While you can save money by shopping for a previously owned model, you might better off saving your money for the vessel you really want. Pontoon boats are available in a broad range of sizes, styles, and prices. Once you've narrowed down your options, consider which amenities you prefer, and which ones you're willing to forgo.
Best of luck in your search, and may you encounter smooth waters ahead!
Project "Pontoon Ride" Boating
Check out our article on: How Much Does A Pontoon Boat Weigh? (10 Examples With Lengths)