Today we are comparing the differences between Pontoon Boats and Deck Boats.
Spending time with family and friends on the lake while getting away from the stresses of everyday life sounds like a fantastic way to unwind. Perhaps you're thinking about renting or buying a boat for you and your family but aren't sure which one to pick.
A triple pontoon has a larger, more solid structure that can handle tighter turns and travel faster, whereas a double Pontoon provides adequate stability at moderate speeds. A deck boat's V-shaped hull offers the same sporty aerodynamics as a Bowrider and provides extra deck room for entertaining.
In our modern age, where technology rapidly increases every year, it comes as no surprise that deck boats and pontoon boats offer a wide variety of options to meet your requirements and budgetary constraints. The sections below will look at specific differences between these two popular boat types like cost, versatility, size, speed, and much more.
The Main Differences Between A Pontoon And Deck Boat
A deck boat offers versatility and handling capability with more aerodynamics to travel faster in rougher water. It also provides a more extended and broader deck to entertain guests of up to 12 people. They are popular among families due to their versatility, and they are perfect for sailing, fishing, and watersports such as skiing and tubing.
The deck boat is simple to handle and comes with life jackets, safety equipment, and a bimini top to provide additional sun protection. They have plenty of seating for relaxing and lounging in the sun, and many have platforms to cast a line when fishing. Deck boats are similar to speed boats in that they feature a V-hull that allows them to travel quickly on the water.
They are quick and aerodynamic when cruising, giving the impression that the boat is rising out of the water. Deck boats have a tighter turn radius than a pontoon boat, and the wake behind the deck boat offers skiers an excellent opportunity to try out their skills. It is built from aluminum or fiberglass and makes them lightweight and relatively easy to clean and wipe down after a day on the water.
Considered the ultimate party boat, Pontoon boats feature a large flat deck with ample space for furniture and guests. Pontoon boats offer more stability with the flat deck mounted on two or three interconnected buoyant tubes called pontoons. This design also allows the pontoon to float in shallower water. Extra seating and railings that can be customized to fit your specific need cater for up to 20 people.
Pontoon boats are generally not as fast as deck boats, needing a wider turn radius. Although stable in freshwater rivers, they are unsuitable for rougher ocean conditions. They have better fuel consumption than deck boats since they don't have to plow through the water but rather float on it. That said, they don't create a particular great wake behind it for expert skiers.
Earlier models were considered slow and not capable of watersports. Still, with new hull design technology and the added middle pontoon (tritoon), these boats offer more speed when powerful triple outboard engines are attached to each float.
Choosing A Boat According To Your Primary Activity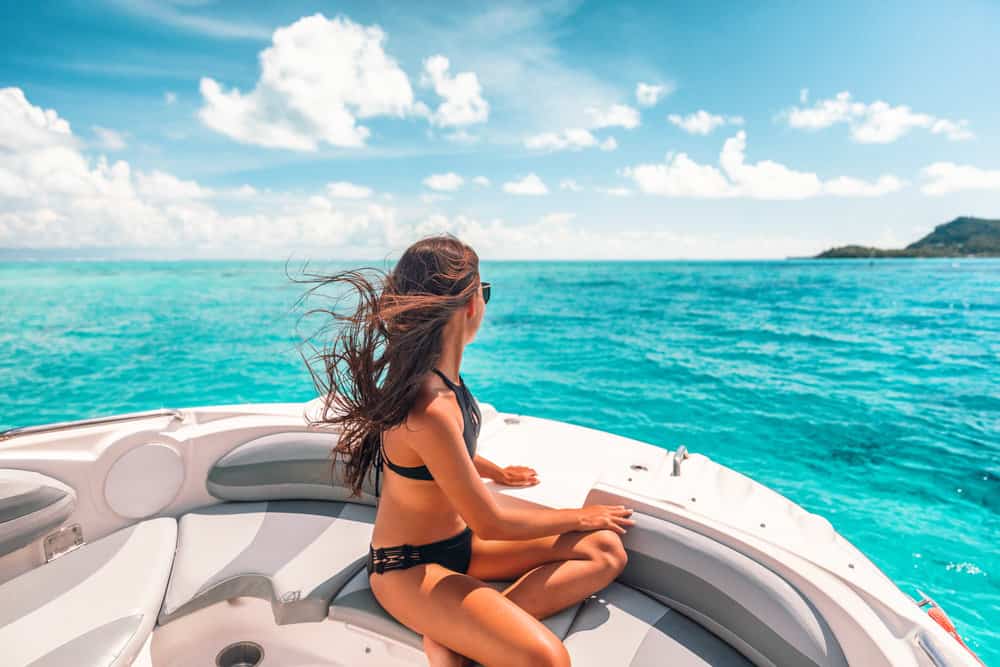 Avid boat lovers and enthusiasts will tell you that you should buy a boat according to your primary application. First-time boat owners try to buy a boat with all the bells and whistles that can do a wide range of activities and still fit into their budget. Only on their 2nd or 3rd boat variation do they realize it is better to own one for their primary activity.
They think along the lines of early morning fishing with watersports for the kids in the afternoon. Then they also dream of a barbeque on the deck while drifting along under the sunset. Some even try to incorporate ways to sleep on the boat.
The point is that while every boat can do all these activities, it is almost always better to buy according to your primary need and desire.
This section will break down the variety of boat options according to their main category.
Fishing: Pontoon Or Deck Boat?
Many vendors and manufacturers provide a wide range of custom options for building pontoon and deck boats for fishing.
More people are fishing from pontoon boats now than ever before. Modern pontoon boats can travel quickly to a distant fishing spot. Pontoon boats are the best if you try to creep into a shallow area. Their overall stability and roominess make them ideal for a large party or family while teaching children to fish from a stable platform. Specific fishing rod railing systems and fishfinder equipment are optional extras.
A fishing deck boat is an attractive option if you seek a fish and ski boat. These boats offer a nice balance of performance and comfort, and customization is available from various manufacturers. Upgrades on a deck boat such as rod holders, satellite radio, fish finders, and more are frequently available. They also provide storage rooms for fishing gear and skis. Many of them also have small bathrooms.
Winner: This category comes down to user preference.
Group (Party): Pontoon Or Deck Boat?
Because of its bigger size, a pontoon boat can accommodate a more significant number of people, usually around ten to fifteen. Still, it can comfortably and safely hold up to 16 – 20 people on a larger model. Whether you're traveling with your family, coworkers, or friends, you'll have more space to hang out on the same boat rather than taking many smaller boats.
A deck boat can hold up to 12 people to host a smaller party or group. The space between the seats is not enough to handle many people standing around.
Winner: The pontoon boat is the best party boat.
Watersports: Pontoon Or Deck Boat?
Deck boats are popular because they are incredibly adaptable and are known as "do-it-all" vessels. The V-hull design and powerful outboard engines make this a better boat for watersports. You can also make tighter turns and bigger wakes that more avid skiers love. The seating arrangement on a deck boat also faces forward, which is better for the passengers on the boat while engaged in watersports.
One of the greatest attributes of a pontoon boat has always been its stability. Many people don't think of horsepower when they think of pontoon boats. They might have enough power to pull a tube or a skier, but it will not be such a frilling ride compared to a deck boat. Performance upgrades are possible if you require your pontoon boat to work for watersports.
Skiing behind a boat necessitates a lot of speed and horsepower from the outboard engines to pull the skier and create wakes behind the boat, demonstrating their ability better.
Winner: Deck boats are better for watersports.
Performance: Pontoon Or Deck Boat?
People love pontoon boats for various reasons, including the fact that they're fantastic for partying and have plenty of amenities, but performance isn't always at the top of the list. A modern pontoon boat with a triple-tube package, on the other hand, can reach high speeds and make smooth, slicing turns like a V-hull.
For instance, the PlayCraft PowerToon X-Treme 3000 boat, powered by dual Mercury Racing 450 outboards, had a top speed of 78.1 mph. However, performance is more than just top-end speed. The PlayCraft were pushed to the summit by the twin Mercs, who cruised at 30 mph in 5.2 seconds. The triple-tube PowerToon banked gracefully into tight turns, held its line at speeds above 40 mph, and did it with ease thanks to electronic throttles and power steering.
Deck boats are popular to have a fast boat that can accommodate many passengers. This boat combined the best features of a fiberglass bowrider and a pontoon boat. Deck boats have either inboard or outboard motors with 300 horsepower, allowing them to reach top speeds of 50 to 70 miles per hour. It will provide you with a quick, rolling ride, letting you catch some great waves while blazing through the water.
On average, the deck boat will always perform better than the pontoon boat because of the V-hull shape, but adding enough horsepower to a tritoon will give you great speed and performance.
Winner: This category comes down to user preference.
Size And Space: Pontoon Or Deck Boat?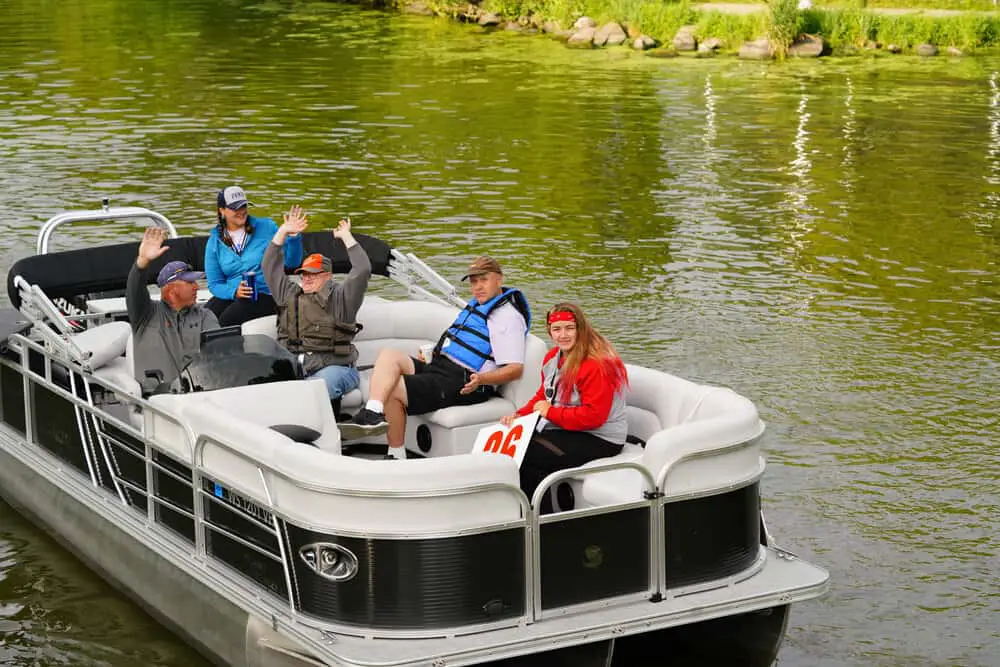 A deck boat's length ranges from 16 to 26 feet, and its width varies from 6 to 10 feet, depending on the model. Both pontoon or deck boats will have plenty of storage capacity, but a pontoon boat will typically have more. The actual size of a deck boat and a pontoon boat might be relatively comparable, so if the size is your deciding factor, think about the purpose of your boat.
With deck boats capable of entertaining up to a dozen people, you'll want to think about the amount of room you need. Most deck boats have all seats facing forward, which is particularly convenient for cruising fast. However, when entertaining friends or family on the lake, pontoon seats can face any direction and adjust to any use case.
This category also comes down to preference since both have ample space for entertaining many people. Still, if customizing the layout on the fly and having space between furnishing is crucial to you, we feel the pontoon boat is a better option.
Winner: Pontoon Boat
Cost: Pontoon Or Deck Boat?
A deck boat will typically cost more than a pontoon boat. On the other hand, more luxurious pontoon versions will begin to approach the price of a deck boat. And, depending on the sort of engine you select for either, it alone might cost up to 50% of the boat's purchase price.
Pontoon boats can cost anywhere from $18,000 to more than $60,000. The cost will differ significantly depending on criteria such as size and extras. Deck boats range in price from $16,000 to $100,000, depending on the type and model and the activities you want to conduct.
Another aspect to consider is fuel consumption. Deck boats consume more fuel than pontoon boats since they reach higher speeds and need to cut through the water, creating more resistance. Therefore if cost is the deciding factor, go for a pontoon boat since it is cheaper and uses less fuel.
Winner: Pontoon Boat
Hull: Pontoon Or Deck Boat?
One of the first things boaters will tell you about pontoon boats is their stability due to their structure, especially when compared to deck boats. While it is true that pontoons are more stable in calm weather, this is only true when the weather is favorable. When things get a little ruff out on the water, a V-shaped hull is nearly always preferred due to how much easier it is to maneuver.
Usually, if you want more stability, you have to sacrifice performance, but with a deck boat, the opposite is true. A pontoon boat would be a better option when throwing a cocktail party on the water. A deck boat is better suited for hosting people while enjoying the waves at higher speeds. Even though they have the same V-hull shape as a bowrider type boat, they are broader, giving them more stability than other V-hull types.
Winner: This category comes down to user preference.
Stability: Pontoon Or Deck Boat?
The decks of most pontoon boats (also known as a multi-hull design) lay flat over the two pontoons, making them excellent for socializing. The boat's flat hull keeps it stable in the water, either moving or resting stationary. On the other hand, Deck boats have v-hulls, which cut through the water as they move, allowing them to accelerate faster than standard pontoons.
Deck boats are better for cutting through the water because of the different types of hulls, but pontoon boats keep you stable whether you're moving or not. The disadvantage of the fiberglass v-hull is its center axis, which causes the boat to rock in response to wind, waves, or passenger movement.
Winner: Pontoon Boat
Maintenance: Pontoon Or Deck Boat?
It's critical to keep your boat clean and in functioning order, just like any other watercraft. It needs effort on both deck and pontoon boats, but the difference is most apparent on the hulls. Aluminum pontoons are significantly easier to clean and maintain than a deck boat's fiberglass hull, which you need to clean down after every day on the lake. Watermarks become very tough to remove later if you don't wipe the gel-coat thoroughly.
Winner: Pontoon Boat with less maintenance.
The Overall Winner
When considering all the primary activities like fishing, partying, watersports, and performance, it comes down to user preference. Both deck boats and pontoon boats have technologies and models for each category.
Conclusion
Before you decide, think about your primary application for the boat, like fishing, watersport, performance, or entertaining. Pontoon boats continue to be the best value on the water. They're continually improving their appearance and power without sacrificing the essential open spaces that make them excellent for partying and socializing.
Deck boats have less space for mingling, but they will get you over the water faster and give you better performance in many situations, even if you must sacrifice some stability and adhere to a stricter maintenance schedule.
Project "Party Barge" Boating
Check out our article on: How Much Does A Pontoon Boat Weigh? (10 Examples With Lengths)