What are the different types of boat lifts? The most common types are bottom standing, floating, suspended, and pile mount lift. But what do those terms mean, and are there any subcategories you should be aware of?
You should invest in a boat lift if you want to keep your vessel securely stored and prevent it from suffering damage in the meantime. As boat owners, these benefits rank pretty high on our hit parade. If there's a small investment that might help us protect our larger one, we're all ears.
Read on to learn more about the different types of boat lifts and how they can help you maintain your boat over a long period of time.
Different Types of Boat Lifts
Bottom Standing or Freestanding Lift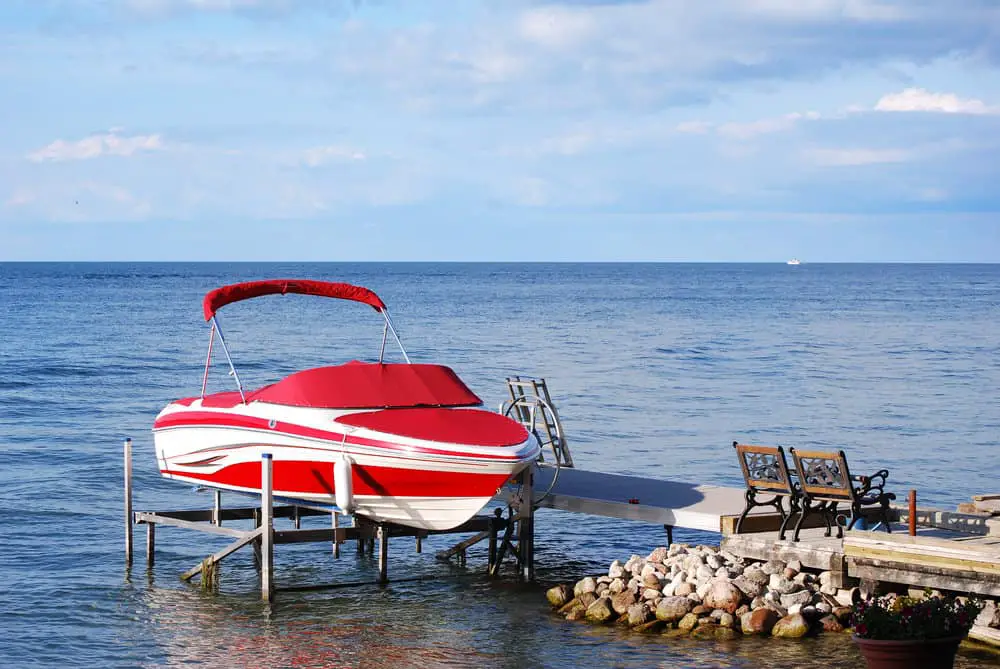 For boats that will be stored next to fixed docks, bottom standing models are the best choice. In fact, a freestanding lift would be ideal in any of the following situations:
Shallow depths (3 to 10 feet maximum)
Fixed docks
Silty or powdery bottom conditions
There are several different types of freestanding lifts available. Which one you choose should depend on the kind of boat you're storing, among other factors. Here are the most popular subcategories:
Pontoon and tritoon
Cantilever
Vertical
Shore Ramps
Be aware that if you have a pontoon boat, you'll need a lift that's designed specifically for that type of watercraft. Pontoon boats are heavier and larger overall, so these types of boat lifts need to be longer and sturdier in order to accommodate them.
It might be possible to adapt your current lift so that it can handle a pontoon-style or tritoon-style craft. For boats measuring 25 feet or longer, though, you'll probably have to buy a new lift.
Floating Lift
Anyone who's storing a watercraft in a spot that has fluctuating water levels should consider this type of lift.
Because components of the boat lift itself are floating, they can lift and fall according to the motion of the waves. This keeps the boat's weight from putting undue pressure on the structure, thereby reducing the risk of damage.
Suspended Lift
Suspended lifts, also known as "hanging cradle" lifts, are a good fit if your storage bay is permanent and always covered by a sturdy overhang. This type of lift can be built into your existing storage structure, but it's also possible to build a new boathouse with a cradle kit included.
This is a high-end option that often includes features like stainless steel cables and winders, galvanized cradles, and powerful motors. As a result, they tend to last a long time, and you don't have to do much in terms of maintenance.
The downside? Suspended boat lifts come with a hefty price tag. Of all the different types available, this one is likely to put the biggest dent in your wallet.
Pile Mount Lift
Pile mounts are mounted on piers to provide stability. The pile consists of a huge wooden beam that's fixed to the ground, surrounded by piers, which are also stationary. The pile is then mounted in concrete, allowing it to withstand strong winds, in addition to tides and choppy water conditions in general.
Benefits
The best reason to invest in a boat lift is a simple one: You want to protect your vessel from damage.
When the craft is loosely tethered to a dock, there's always the possibility that it will get knocked around—whether by wind, natural waves, or the wake from other boats. Vessels that are kept in salt water are also prone to corrosion over time.
The right lift can also help you save time. When you have your own boat lift, there's no need to haul the craft from the launch ramp to the storage area and back again. As a bonus, this will also help you save on fuel costs.
Finally, owning a boat lift is more convenient than the alternative. You'll have easy access to the water, which is likely one of the main reasons you purchased your boat to begin with. Just lower the craft into the water from the lift and head out on your next adventure.
Check out this video tutorial from ShoreStation on the advantages of owning a permanent lift.
Important Considerations
In essence, if you're planning on storing your vessel in water that's no deeper than 10 feet, look at bottom standing lifts. For deeper water, it's better to select a floating or suspended lift.
However, your job is far from done. Even when you've decided what kind of lift would work best, you'll need to narrow it down a bit more.
When you're deciding between the different types, your first step is to take a look at your boat's overall weight and dimensions. Make sure to include the beam in your calculations, as the lift will need to accommodate the vessel at its widest point.
Because it's always best to err on the side of caution, try to invest in a lift that will be able to bear more weight than necessary. That way, you won't necessarily have to buy a new lift when you add accessories or upgrade to a larger craft.
Here are a few other factors you should consider when shopping for a boat lift.
Manual Vs. Electric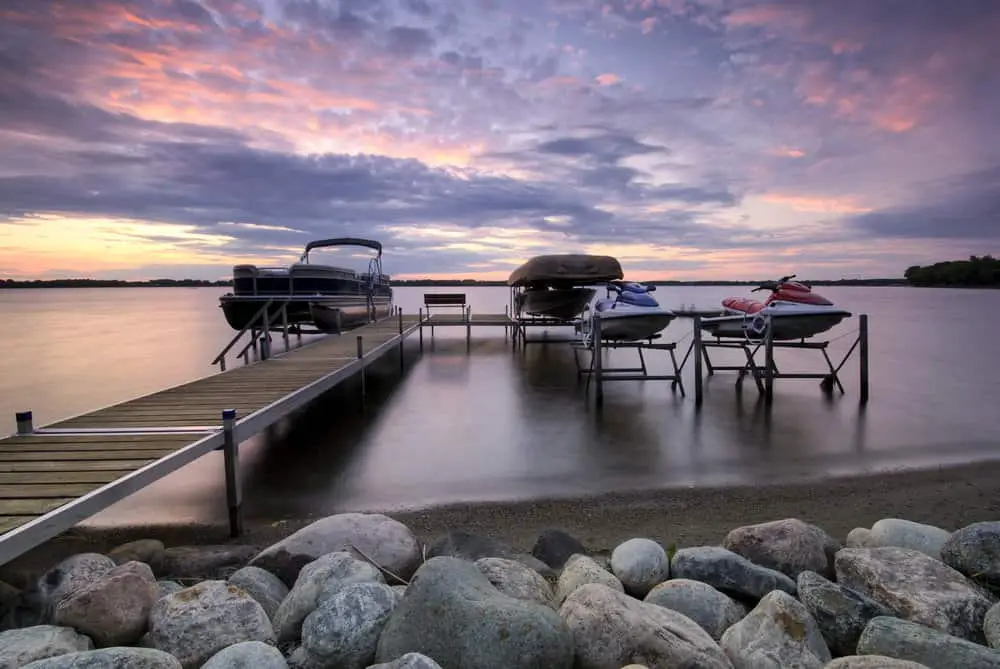 Manual lifts are the more affordable option. They also may be more practical, especially if you can't run electricity to your dock. Although they're often operated via a spinner wheel that looks old-fashioned and requires elbow grease, this can actually add a welcoming old-fashioned vibe to the storage process.
If you want an electric lift, you'll need to plan ahead. Certain docks and storage areas may not be able to accommodate these types of boat lifts. Moreover, a skilled electrician will need to come and install it—this isn't a DIY situation.
On the plus side, however, the electric lift can be equipped with lights to guide you on your way. It might even be possible to use solar panels to power the unit, though this will likely cost even more.
Permits and Rules
Are you sure you're allowed to install electricity on the dock? Even if you choose a lift that uses a manual crank, you'll still need to abide by a certain set of regulations. These could vary depending on your situation.
For example, those of you who share community docks with other homeowners will need to secure permission before installing a boat lift. Be forewarned that some of them might not want their views obscured by a piece of machinery, no matter how functional it might be.
In some cases, you might have to contact the Homeowners Association to gain their permission. There may be height restrictions or other guidelines in place, so make sure you have all your information at the ready before you reach out.
Environmental Concerns
It goes without saying that the materials will corrode more quickly if they're kept in salt water. For this type of watercraft, choose durable materials for the lift. Aluminum and galvanized steel are both solid options. It's also a good idea to coat the frame with antifouling paint.
Height
Different types of water require different sets of rules. That's true whether you're talking about storage, operation, or just about any other aspect of boating.
In most lakes and ponds, the water levels remain relatively constant. The only times they see significant shifts are in times of severe drought or flooding.
On the other hand, if you're installing the lift in the ocean, the levels will fluctuate dramatically several times per day. In this case, a floating lift might be your best bet.
You'll also need to decide whether you want a cradle-style or swing-style lift when assessing the general water depth.
To begin, take a look at where you expect the bow and the stern to rest. The cradle-style models will secure the hull firmly in place, while a sling-style lift will lie horizontally and take up less space. For this reason, sling-style models are a better choice in shallow water.
Wind
In areas that have the potential for strong winds, boat lifts are essential. They keep vessels from colliding with the docks—or possibly with other boats, depending on your storage situation.
Be forewarned, though, that if there's a lot of water traffic in the area as well, you won't be able to use a swing lift. Instead, look for a lift that will hold your watercraft steadily in place.
ShoreStation Vs. Shoremaster
When you look at the different types of lifts available, a couple of names are bound to stand out. ShoreStation and Shoremaster are both popular options. How do they differ from one another, and which is best?
ShoreStation is a premium brand, offering products made from high-end materials. The hardware is noticeably durable, often made of brass or stainless steel.
As you might expect, though, you'll pay a hefty price for this type of quality. ShoreStation products are notorious for fetching higher prices than much of the competition.
Shoremaster products are cheaper, which is enough to convince many shoppers to go with this brand instead. If you're looking for a basic lift and Shoremaster has one that suits your needs, you might want to give it a try.
One caveat: If you want your lift to have a canopy, ShoreStation earns higher marks among boat owners. Since the canopy provides even more protection for your watercraft, it's considered an essential component. This gives ShoreStation the edge over Shoremaster unless you're shopping on a tight budget.
Final Thoughts
The water conditions are the first things you want to consider when shopping for a boat lift. The type of watercraft you have makes a difference, too. Once you've taken all the criteria into account, it should be easy to choose between the different types.
Project "Get Lifting" Boating
Check out our article on: Average Cost For A Pontoon Boat: (15 Examples)