If you've taken the plunge and bought a boat, you likely want it to last you a long time and will do anything to ensure it stays in as good a condition as possible. One of the most effective ways to protect your boat is to shrink-wrap it.  
When you're looking for a boat shrink wrap kit, you should seek a kit that is suitable for your boat size, contains all the tools and materials you'll need, and contains high-quality wrap at least 6 mil thick. 
This article explains exactly what you should look for while shopping for a boat shrink wrap kit. I'll also suggest the best boat shrink wrap kits available on the market to determine which kit is best for you and your boat. Finally, I'll discuss the advantages and disadvantages of shrink-wrapping versus getting a canvas boat cover.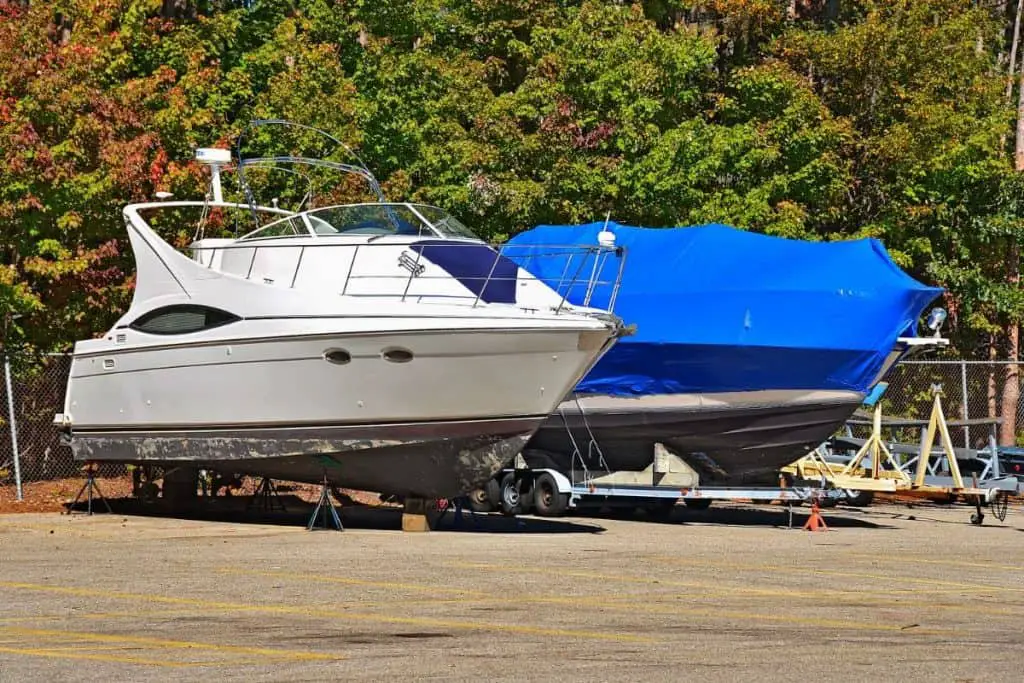 What To Look For in Boat Shrink Wrap Kits
Shrink-wrapping something as large and important as a boat can be intimidating at first, and the best way to alleviate your worries is to get the best kit you can. Here's what you should look for: 
The Kit Should Suit Your Boat Size
The bigger the boat, the more wrap you'll need. The kit you purchase should come with enough material to cover your boat, or else you'll be stuck with the choice of purchasing more shrink wrap or leaving part of your boat unprotected. The best way to avoid this headache is to ensure that the kit you're purchasing comes with the right amount of material. 
Most kits tell you what size boat they can cover. For example, a kit may be large enough for 12-ft (3.66 m) to 24-ft (7.31 m) long boats or 24-ft (7.31 m) to 29-ft (8.84 m) long boats. The average pontoon boat is 18 feet (5.49 m) to 25 feet (7.62 m) long. 
The Kit Should Come With Everything You Need
Shrink-wrapping a boat is a large undertaking, and it involves more than just the wrap. The best kits include everything you'll need, including: 
Shrink wrap (obviously) 
Heat shrink tape 
Film cutters
A strapping system 
If the kit doesn't come with all these components, you'll need to purchase them separately, which is inconvenient. 
The Kit Needs High-Quality Wrap
You're likely shrink-wrapping your boat to protect it through the winter months, so to ensure it is protected, the wrap needs to be of high quality and thick enough to prevent any damage or animals from chewing through the wrap and wreaking havoc on your boat. 
The shrink wrap should be at least 6 mil thick. Ideally, the wrap should be 7 mil thick. If it isn't, you risk damage to your boat, despite the effort and expense involved with shrink-wrapping it.  
For more information on winterizing a boat, I recommend reading my article breaking down the costs of DIY and serviced winterization.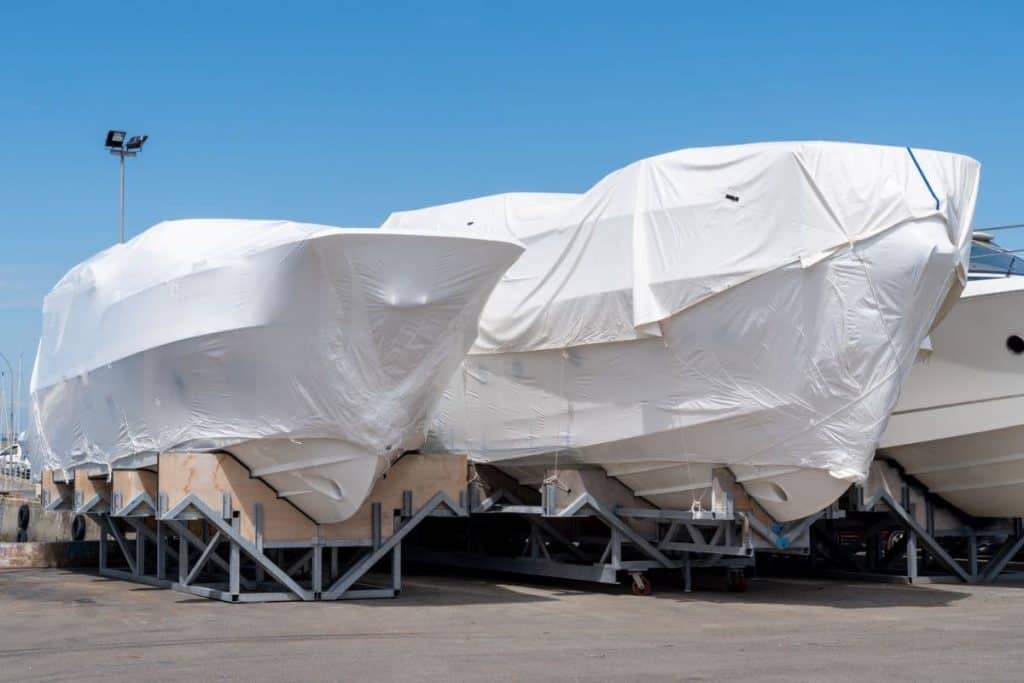 The Best Boat Shrink Wrap Kits 
Now that you know what the best boat shrink wrap kits entail, you're ready to start looking for the best kit for your boat. Here are the best boat shrink wrap kits you can buy. Both of these kits are available on Amazon.com. 
This kit is ideal for boat owners who don't want to get the necessary tools separately. However, those who purchase this kit will need to get the wrap separately, as this kit doesn't include that crucial element. 
Here's what this kit includes: 
Shrinkfast 998 heat gun
Leather safety gloves 
Shrink wrap tape
Preservation tape
Cross woven cord strapping 
Buckles 
Strap tension tool 
Foam padding
Adhesive vents
Cutting ring knife 
Shrink film knife with replacement blades 
End caps
Bottom caps 
The highlight of this kit is the inclusion of the Shrinkfast 998 Heat Gun. This gun has up to 200,000 BTUs of power, even though it only weighs 2.2 pounds (1 kg). Furthermore, the hose assembly can withstand up to 3,000 pounds (1361 kg) of pressure. 
The kit is designed to last, so you'll be able to use the tools included for many years. That makes this kit a worthwhile investment. 
Pros 
All the tools you need to wrap the boat are included except the wrap. 
Everything included is high-quality and durable. 
The kit includes the impressive Shrinkfast 998 Heat Gun. 
Cons 
The wrap is not included. 
This kit is only suitable for larger boats, 25 feet (7.62 m) or longer. 
The kit is expensive. 
You'll need to provide a propane tank separately. 
Looking to clean your seats before you get her winterized? Check out our article on: Best Boat Seat Cleaner (6 Cleaners Reviewed)
If you have a smaller boat, a great boat shrink wrap kit option is this kit from Dr. Shrink. This kit is compatible with runabout boats and pontoons 24 feet (7.31 m) long or shorter. Here's what's included: 
One roll of 7 mil shrink wrap 
One roll of heat shrink tape 
Woven cord strapping 
End caps 
Buckles
Ring cutter
Film knife 
Self-adhesive vents 
In addition to selling the materials and the tools you need to shrink-wrap your boat, Dr. Shrink provides simple guides on how to wrap your boat if you're embarking on this task yourself. 
Pros 
The kit includes one roll of 7 mil shrink wrap, whereas other kits don't always include the wrap. 
The kit can be used for boats and other large items, such as patio furniture. 
This kit is more affordable than other alternatives. 
Cons 
The kit doesn't work for boats longer than 24 feet (7.31 m).  
Doesn't include a heat gun, support poles, strap tightener, or a propane tank. 
Some users report that the shrink wrap rips easily. 
Shrink Wrap vs. Boat Cover: Which Is Better? 
When it's time to winterize your boat, you have two options: shrink wrapping or using a boat cover. To help you decide if shrink wrapping is the best option for you, let's compare these choices and take a closer look at the pros and cons of each, starting with shrink wrapping.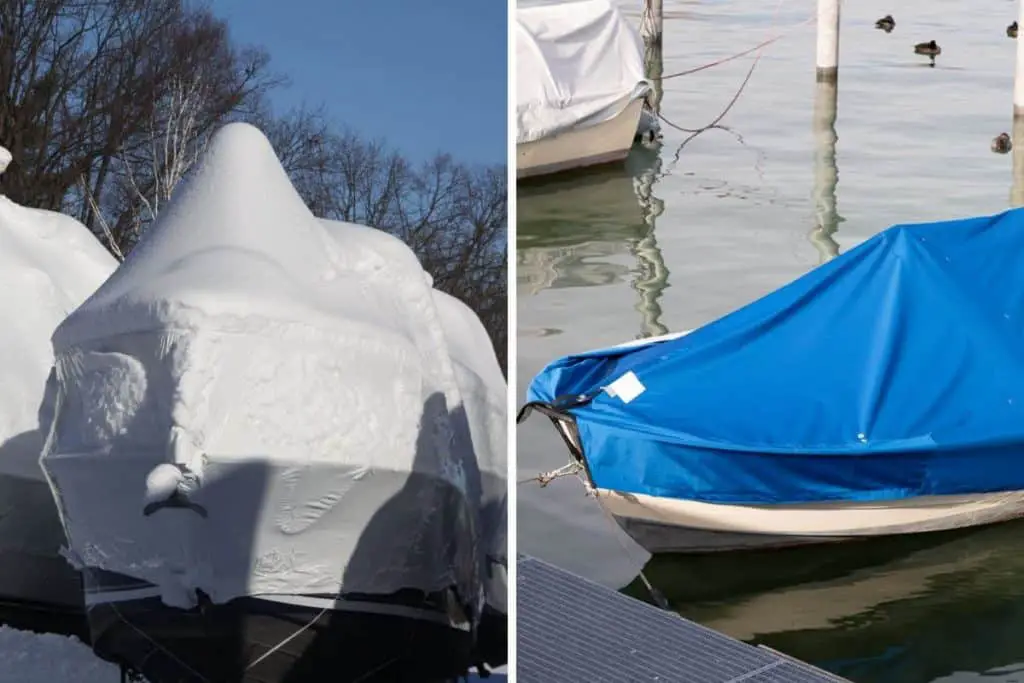 Advantages of Shrink Wrapping a Boat
First, here are some of the advantages of shrink wrapping a boat: 
When properly done, shrink wrapping is more tightly secured than a boat cover or tarp, which offers more protection from dust, moisture, and other unwanted elements. 
Because shrink wrap is so tightly fitted around the boat, the risk of tearing is minimal. 
Shrink wrap usually isn't damaged over time because of sun exposure, especially if treated with UV inhibitors.  
The surface of shrink wrap is slippery, which allows for less ice and snow buildup. 
Disadvantages of Shrink Wrapping a Boat
These are great pros, but shrink wrapping is not a perfect winterization solution. Here are some of the disadvantages of this method: 
You'll have to replace the shrink wrap every year, which can get expensive. 
If you don't want to do the shrink wrapping yourself, you'll have to pay quite a bit for professional help.
Trapped moisture can cause mold and mildew to grow, especially on vinyl seats. If you have this problem, I recommend reading my article on how to clean vinyl boat seats of mildew. 
You won't be able to access your boat once it's wrapped, so if you like to work on it over the winter, this isn't an option. 
Shrink wrapping a boat uses a lot of plastic, and this plastic isn't reusable. Therefore, you'll generate a significant amount of plastic waste yearly. 
Getting a Permanent Boat Cover
Now, let's look at the pros of getting a permanent boat cover: 
You won't need to replace the cover annually, and as long as you care for it properly, a high-quality boat cover can last for many years. 
You can work on your boat during the winter, as boat covers are relatively easy to take on and off. 
Permanent boat covers are more environmentally friendly than shrink wrapping, as it doesn't result in the plastic waste that shrink wrapping does. 
Canvas boat covers allow for more ventilation throughout the winter, reducing the risk of mold and mildew. 
As with shrink wrapping, there are some disadvantages to using a boat cover instead of shrink wrapping. Here are some cons you should be aware of: 
Boat covers don't cover the boat as snugly as shrink wrapping, allowing dirt, pests, and moisture to creep into your boat and cause damage. 
Custom canvas boat covers can be extremely expensive upfront. You'll save money in the long run because a cover isn't an annual or repeating expense, but shrink wrapping may be more realistic if you don't have the money right away. 
You may need to repair your cover from time to time as it ages. 
You'll need to store the cover while you're not using it, and a canvas cover can take up a considerable amount of space. 
Ultimately, your best choice depends on your budget, climate, and priorities. If you're willing to take on the annual expense of shrink wrapping, you're more likely to prevent damage using this method because of how airtight the shrink wrap is. However, a high-quality boat cover is usually sufficient to prevent most damage if you'd rather avoid the cost and hassle of annual shrink wrapping.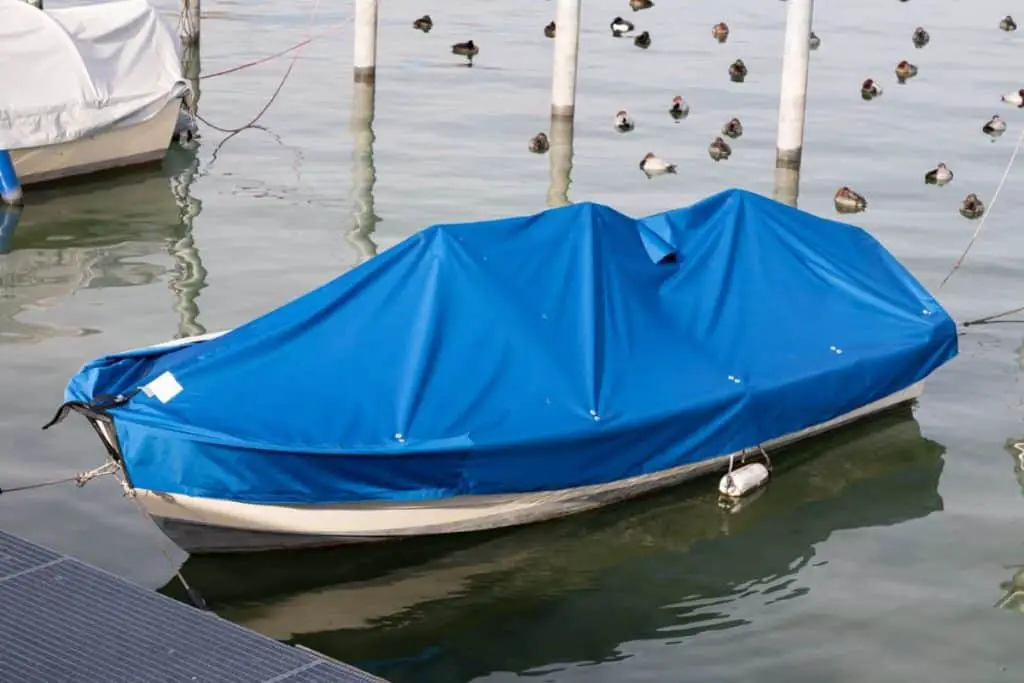 Conclusion 
Protecting your boat during the winter is essential to ensure its longevity and quality. One of the best ways to winterize a boat is to shrink-wrap it. The best boat shrink wrap kits include the Mr. Shrinkrap Single Large Boat Shrink Wrap Kit and the Dr. Shrink Shrink Wrap Kit. If you don't want to shrink-wrap your boat, a popular alternative is to use a boat cover. 
Project "Shrink That Thing UP" Boating
Check out our article on: Best Marine Boat Wax: (Buyers Guide)